Mint 4200 Review PROS & CONS – Evolution Robotics Automatic Hard Floor Cleaner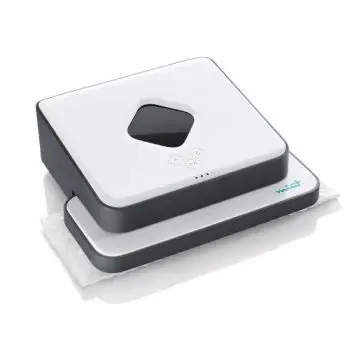 The Mint 4200 Automatic Floor Cleaner from Evolution Robotics is designed exclusively for sweeping and mopping hard surface floors for you. Using dry and pre-moistened cleaning cloths, Mint picks up the dust, dirt and pet hair that constantly accumulate on floors.
Mint's compact design gets into tight spaces, under furniture and into other areas that are hard to reach with traditional mops and sweepers.
Having to come home and clean after a long day's work is one of those chores that many people dodge. The mere thought of sweeping and mopping several rooms for at least one hour or more can definitely put a damper on one's mood especially if its a one man job.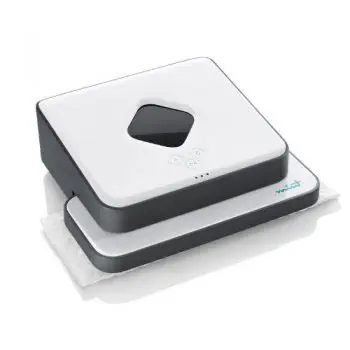 Mint Automatic Hard Floor Cleaner 4200
Using dry and pre-moistened cleaning cloths, Mint picks up the dust, dirt and pet hair that constantly accumulate on floors. Mint's compact design gets into tight spaces, under furniture and into other areas that are hard to reach with traditional mops and sweepers.
However, with the advancement of technology things have become simpler for those with busy lifestyles. One such invention is the Mint Cleaner 4200 which does all the work for you with just the touch of a button.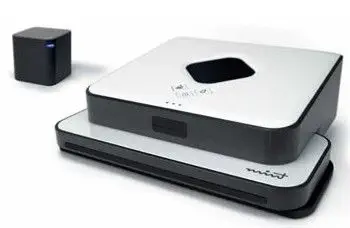 Guided by the NorthStar Navigation System cube, Mint tracks where it cleans so it doesn't miss a spot. iRobot Mint 4200 methodically cleans open areas by moving back and forth in straight lines, working around furniture and rugs, and cleaning along baseboards.
Mint is easy to use. Simply attach your cleaning cloth of choice, choose sweep or mop and let Mint Roomba 4200 clean for you. Since Mint is not a vacuum, there are no bins to empty or filters to replace. So you can enjoy hassle-free clean floors every day.
Mint 4200 Review
The NorthStar Navigation System works like an indoor GPS that helps Mint keep track of where it has been and where it needs to go. Specifically, the NorthStar Cube projects a signal that Mint uses to determine its location.
Then as Mint starts cleaning, it builds a map of the area as it goes, marking walls, obstacles and drop offs as it encounters them. After Mint finishes cleaning open areas and around obstacles, it performs a final edge cleaning along walls and furniture and then returns to where it started so you know right where to find it.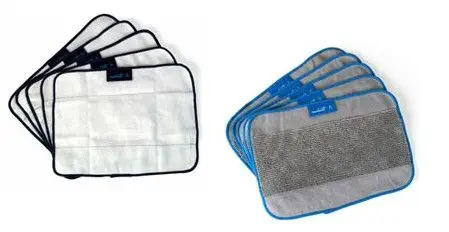 Mint can map and clean up to 800 square feet either in a large open space or by discovering adjacent rooms. In mop mode, the cleaning area is restricted to 250 square feet to optimize cleaning while the cleaning cloth is wet.
Mint's dual modes let you easily maintain all your hard surface floors with one device. In Sweep mode, Mint uses a dry sweeping cloth to pick up dust bunnies, pet hair and grit from your floor.
In Mop mode, Mint cleans with a pre-moistened cleaning cloth and a special back-and-forth mopping motion to pick up deeper dirt and grime. All it takes to switch modes is a fresh cleaning cloth and a press of a button.
Mint 4200 Floor Cleaner works with commonly available disposable cleaning cloths or with re-usable microfiber cloths. Mint's specially designed microfiber cloths can be re-washed and re-used hundreds of times.
Different cloths have been developed to optimize both sweeping and mopping. Flat white microfiber cloths are ideal for attracting dust and dirt while dry sweeping. Textured grey cloths hold water and help loosen and grab deeper grime when mopping. Mint comes with a starter pack of 1 mopping and 2 sweeping cloths.
To keep your cloths in good shape for hundreds of hours of cleaning, please follow these laundering recommendations:
Machine wash warm.
Tumble dry low or air dry.
Do not use fabric softener or bleach as these can degrade the cloth fibers over time.
Wet cleaning with microfibers is safe for sealed floor surfaces including tile, vinyl, laminate and sealed hardwood. Disposable pre-moistened cloths are usually safe for the same floor types, but always check the package to make sure they are safe for your floor type.
Evolution Robotics 4200 robot floor cleaner runs up to 3 hours on single charge using microfiber cloths or most brands of disposable cloths.
What Is So Special About the Evolution Robotics Mint Automatic Hard Floor Cleaner 4200?
The Evolution Robotics Mint iRobot 4200 Automatic allows you to relax, while it gets the work done for you. It sweeps and mops hard floors with the use of dry and pre-moistened cleaning cloths.
The device operates under the NorthStar Navigation System to remove pet hair, dirt and dust that may otherwise have been inaccessible with a traditional mop or sweeper.
Evolution Robotics Mint Automatic Floor Cleaner 4200
Mint 4200 Cleaning Process
Evolution Robotics Mint Automatic Hard Floor Cleaner, 4200.
This easy-to-use device produces back and forth motions; maneuvers around furniture and rugs; works its way along baseboards, thus creating a strategic cleaning process. You can get your cleaning process underway within minutes.
To use the sweep mode option, attach the dry sweeping cloth. This option gets rid of grit, dust bunnies, and pet hair. To use the mop mode option, attach the pre-moistened cleaning cloth. Switch modes easily by changing the cleaning cloth and pressing the button for the respective mode.
Mint Cleaner 4200 Features
Here are some unique features of the Evolution Robotics Mint Automatic Hard Floor Cleaner 4200:
NorthStar Navigation System which helps the device to identify and record the areas that it has cleaned and those places which still require cleaning
Sweep and mop mode options allows you to clean the desired area with a dry sweeping microfiber cloth or wet mopping microfiber cloth respectively
Disposable cleaning cloths; reusable microfiber cloths (these can be washed and reused many times)
Power adapter
Quick start guide
User manual
Mint 4200 vs Mint 5200C vs Braava 380t



Overview
Description
Brand/Store
Availability
User Rating
Review
Specification
Operating Time (hours)
Charge Time (hours)
Operating Pattern
Scheduled Cleaning
Hardwood, Tile & Linoleum
Carpet
Height Adjustment
HEPA Filter
Multi-Room Navigation
Battery Indicator
Full Bin Indicator
Cliff Sensor
Charging Base
Return to Charging Base
Bumper
Boundary Markers
Virtual Walls
Remote Control
Dimensions
Weight
Price
Dirt Sensor
Infrared Sensor
Spot Mode
Evolution Robotics Mint 4200 PROS & CONS
Here are some advantages and disadvantages of using Mint 4200 Robotic Hard Floor Cleaner:
 Pros:

Easy to use
Low maintenance
Excellent battery life
Time-saving
Cost effective
Meticulous cleaning process (the device works its way into the corners, edges, and other hard to reach places)
Silent operation
Efficient speed level
Lightweight

Cons:

Doesn't pick up all the dirt
Loses connection to the cube on several occasions
Keeps circling the same area
Takes a long time to charge
Unable to sweep and mop in the same day (this depends on the amount of battery life you use for either option)
Leaves residue after mopping the floor
Here is a breakdown of what customers are saving about with the Mint Automatic Hard Floor Cleaner:
Thorough cleaning: The device works its way into the corners, edges, along baseboards, and other restricted areas. After covering the mapped out area the device goes over the area again, making sure to get into every corner it is capable of reaching.
Silent operation: It travels through the area quietly without causing any disturbance to the setting.
Ease of use: Switch from mop to sweep mode by changing the pre-moistened cleaning cloth to a dry sweeping cloth or vice versa.
Time-saving: This device comes in handy for those who are unable to spend the time going back and forth sweeping or mopping hard floors.
Battery life: It lasts up to three hours. Depending on the size of the area, you can clean several rooms in one setting.
Mint 4200 Review Conclusion
The Evolution Robotics Mint Cleaner 4200 offers a variety of beneficial features. For those with hectic schedules, you can simply select the cleaning mode you desire and have the device do the work for you while you catch up on other things.
Is the Mint Automatic Floor Cleaner for you? Are you the sort who primarily cleans your floors with a wet or dry mop? If so it could be, but we'd say only if you're looking to maintain a smallish area, as unlike the XV-11 this one doesn't do very good at finding its way from room to room, and only if you don't mind taking care of the thing, as it will need attention after every use.
It is wonderfully quiet compared to the rest and, at $250, relatively affordable, but not cheap enough to warrant a universal recommendation.
Mint 4200 is a worthwhile investment for anyone seeking to have a thorough hard floor cleaning without having to take full control of the process. For Mint 4200 user manual check this link.
If Mint 4200 s not robotic vacuum for hard floors to your liking, then be sure to check Braava 380t.
Good
Mint does a respectable job of either dusting or mopping. It does, however, require a lot of manual attention. There's no charging base for it to return to, so you'll need to flip it over and plug it in by hand. Also the pad must be replaced and cleaned after every use, so you'll need to pop that off and put a new one on.
PROS
Easy to use
Low maintenance
Excellent battery life
Time-saving
Cost effective
Meticulous cleaning process (the device works its way into the corners, edges, and other hard to reach places)
Silent operation
Efficient speed level
Lightweight
CONS
Doesn't pick up all the dirt
Loses connection to the cube on several occasions
Keeps circling the same area
Takes a long time to charge
Unable to sweep and mop in the same day (this depends on the amount of battery life you use for either option)
Leaves residue after mopping the floor