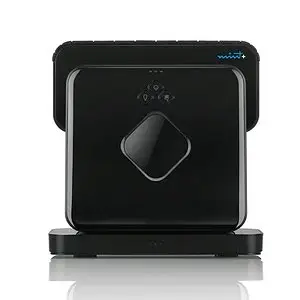 Mint Plus Automatic 5200C
PROS:
Compact size
Ease of use
Mops and Sweeps
Quick Clean Mode
Intelligent Cleaning Ability
Whisper Quite
Longer-Lasting battery
Fast charging
CONS:
No scheduling
No automatic return to charging cradle
Hard floor types only
Mint Plus is easy to use. Simply attach your cleaning cloth of choice, choose sweep or mop and let Mint Plus clean for you. Since Mint Plus is not a vacuum, it operates quietly so you – and your pets – won't be disturbed while it cleans.
The NorthStar Navigation System works like an indoor GPS that helps Mint keep track of where it has been and where it needs to go. Specifically, the NorthStar Cube projects a signal that Mint uses to determine its location. Then as Mint starts cleaning, it builds a map of the area as it goes, marking walls, obstacles and drop offs as it encounters them.
Using the NorthStar Cube as a reference point, Mint can map and clean up to 800 square feet either in a large open space or by discovering adjacent rooms. In mop mode, the cleaning area is restricted to optimize cleaning while the cloth is wet.
Specification:
Mint Plus Automatic 5200C
| | |
| --- | --- |
| Operating Time (hours) | |
| Charge Time (hours) | |
| Operating Pattern | |
| Scheduled Cleaning | |
| Hardwood, Tile & Linoleum | |
| Carpet | |
| Spot Mode | |
| Height Adjustment | |
| HEPA Filter | |
| Multi-Room Navigation | |
| Battery Indicator | |
| Full Bin Indicator | |
| Cliff Sensor | |
| Return to Charging Base | |
| Bumper | |
| Boundary Markers | |
| Virtual Walls | |
| Remote Control | |
| Dimensions | |
| Weight | |
| Price | |
Compare
Find Best Robotic Vacuum
Picking the right Robotic Vacuum Cleaner is not an easy task. That is why we made it easy for you. Compare robotic vacuum specifications and find best ratio of price and quality!
Check
Top Rated Robotic Vacuums
If you are interested in what rating did we give for each robotic vacuum in our reviews, then be sure to check best rated robotic vacuums!

Mint Plus Automatic 5200C