Why Braava and not Roomba, or Scooba?
The cost barrier between Roomba and Scooba is huge. The Scooba is $600, and the new high-end Roomba is $700.
The Braava does not:
Support scheduling or automatic cleaning
Dock back into its charger at the end of a run
Vacuum
Memorize the layout of a room
These are the features you pay for in a Roomba or Scooba. Some call them luxuries, not necessities and will rather take Braava at half the cost.
What Does iRobot Braava 380t Do?
The iRobot Roomba 380t is actually two things. It's a mop and floor sweeper.
The "dry" mop mode of the Braava just runs in a pattern over the cleaning area, including along the walls, and uses a dusting cloth to gather up debris and push larger junk to the edge of the room.
Hitting the wet mode button initiates a different behavior in Braava. Instead of just zigzagging across the cleaning area, Braava will go back and forth, overlapping and "scrubbing" the floor with the textured terry pad.
The reservoir pad base slowly wicks liquid out of the reservoir and onto the cleaning pad via a small antimicrobial fabric wick (which is replaceable). Mop stays wet throughout the cycle.
In wet mop mode, it gets up a fair amount of stains in kitchen.
On the laminate, the wet mop mode covers whole living area, though if you want it to do more than 350 sq. ft. of wet mopping, you'll have to move it where you want to go, along with the navigation beacon.
Dry mopping doesn't really benefit from multiple passes, so the Braava requires a more precise location system to achieve maximum efficiency and coverage.
Braava uses something called a "navigation beacon" which bounces a signal off the ceiling which is sort of GPS. The Braava has a big, translucent window on the top.
Using the static beacon as a reference point, Braava builds a map of a room as it cleans, making sure it cleans the entire room. In dry mop mode it doesn't cover the same area twice.
In wet mop mode, it uses this map to ensure all areas are thoroughly scrubbed. The cube needs to be somewhere relatively high up and point roughly toward the center of the area you want the robot to clean.
The cube takes two C batteries. The Braava displays a rating of 1-3 lights for signal strength with the cube. If you want to cover areas outside the cube's range you've got to buy another cube.
The cubes need to have some coverage overlap to work in tandem, and only the 380t supports working with multiple cubes.
The cubes don't extend the maximum sq. footage of the iRobot Braava 380t floor mopping.
While I was a little skeptical purchasing this item due to my experience with robot products in the past, I'm glad I gave it a shot. Sure it doesn't replace a vacuum and mop but it sure does a pretty good job of stretching the time between manual cleaning. – Buyer

Braava is not a vacuum. It does not pick stuff up, at least not stuff of substantial size. It collects dust, hair, liquids, and maybe a few small crumbs if you're lucky. You will still have to vacuum.
If you want a vacuum and a mop and don't want to ruin your laminate, buy a Roomba and a Braava, or a Scooba if you don't have laminate.
There's a reason that it's half the cost of the Scooba, and less than half the cost of the latest Roomba.
And on that same note, it's also not a steam cleaner or a floor buffer. It lightly mops your floors. It is not going to pull up years-old tar or random sticky spots that have been in your kitchen for years. If you want a deep clean for your floors, you still need to mop.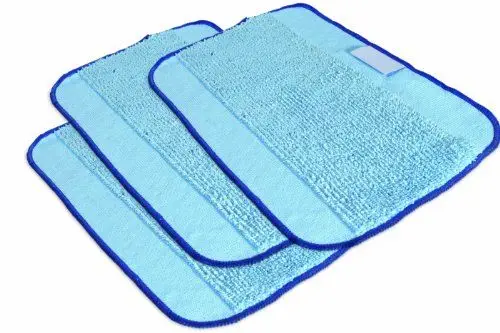 Braava Microfiber Mopping Cloths
Braava's textured Pro-Clean microfiber mopping cloths remove dirt and hair from your floors. The cloths can be washed and used hundreds of times.
Why Get Braava 380t?
Because it removes 95% of the work of mopping and sweeping up a hard-floored house / apartment, and it does that 95% a lot more often and a lot better than you probably would.
A Braava will reduce the allergen factor in your house when used regularly. It will keep floors looking nice and clean, and it doesn't require much babysitting.
It's quiet and can do up to 4 hours of work on a single charge. The 380t comes with the extended-release Pro Reservoir attachment which wet cleans a lot better, which is otherwise $30 separately.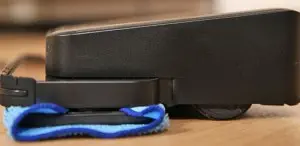 It also comes with a Turbo charge dock that takes 2 hours to charge as opposed to 4+ on the wall wart. The 380t has a bigger 2000mAh battery, and by design covers more square footage.
The only reason to get the base model is if you're only using it for like, one small room. If you have pet hair issues, this is actually probably better than a Roomba for keeping it under control, especially if you just dampen the cloth.
The iRobot Braava 380t has three moving parts: the electric drive and the two wheels attached to it. You don't need a second cube unless you want it for the convenience.
Just move the one it comes with to another room if you want it to clean another room. Cheaper, and not really difficult.
It really does clean along the edges of walls. It's actually very good at it. And it gets around chair / table legs really closely. You can pause and then resume cleaning by pressing the cleaning button or just picking up the robot.