iRobot Dirt Dog 110 Workshop Robotic Vacuum Review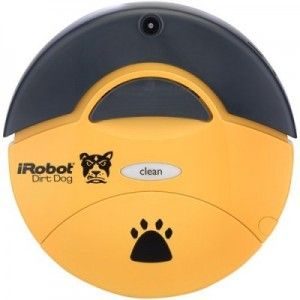 iRobot Dirt Dog 110 Workshop is designed to handle only hard floors, shop carpets or industrial floor surfaces. It's been designed to sweep under workbenches, cars and other hard to reach areas. It picks up the nuts, bolts, dirt, and other debris from your shop floor.
The product is not a vacuum, but a sweeper. If you've ever seen a street cleaning truck, the design is similar. A little brush spins out of the side, sweeping dirt underneath the Roomba, where another brush sweeps the dirt into the dust bin.
iRobot Dirt Dog has big dust bin and high-speed, counter-rotating brushes to keep your workspace clean. It is intended for use on hard floors, shop carpets or industrial floor surfaces only.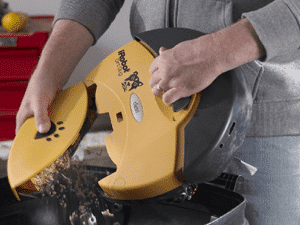 Dirt Dog 110 robotic vacuum uses a 14.4-volt rechargeable Ni-MH battery that provides the power needed to clean hard floors, shop carpets, garage and basement areas, as well as industrial floor surfaces.
Counter-rotating brushes spin almost 1,000 times per minute, sweeping up dirt and debris that cling to rough surfaces. Just press the "clean" button, and the unit sweeps under workbenches, cars, and other hard-to-reach places.
You don't need to worry about Dirt Dog falling down the stairs as it uses "cliff" sensor technology which keeps him safe from vertical drops. The unit offers an oversized, bagless, easy-to-empty debris bin, and fully charges in seven hours.
Accessories include a standard battery, a standard charger, a cleaning tool, and an owner's guide. The cleaning machine measures approximately 13 by 13 by 4 inches and carries a one-year limited warranty.
I really liked this Roomba for the hardwood flooring throughout our living room and kitchen.

The unit was not able to handle my garage, but I kind of expected this as I tend to drop larger nuts & bolts. I can certainly see use in a shop or garage that is just looking for general, low volume, saw dust clean up. – Buyer
iRobot Dirt Dog 110 Features
iRobot Dirt Dog Workshop robotic vacuum for hard floors is very simple to use. With a push of button, the device will start its operations, and the user can just leave it to work.
Dirt Dog will work forward and backward or in a circular motion to clean up all the places where there is a need to clean.
It may have simple operations, but the fact is that these operations can tackle even the hardest textures and the hardest objects to pick up.
Garage and patio are just some of the outdoor spaces where the device works really well. It picks up dirt, debris and even small objects like nails and screws that may come scattering around the place.
Cleans well on hard floors
Simple one button operation
Stair detection system
Standard battery and charger
Large dustbin
Fully charges in 7 hours
iRobot Dirt Dog 110 is user-friendly. When charging the device, it will take about 7 hours to recharge its battery and be ready for cleaning again fully. As it comes with large dust bin, you will not have to empty it often. I
iRobot Dirt Dog cleaning process
iRobot 110 Dirt Dog Workshop Robotic Vacuum is user-friendly which makes it an even better device to use. If you come to charge the device, it will take a matter of 7 hours for you to fill its battery totally then it is ready for operation again.
The iRobot Dirt Dog in Action
Dirt Dog cleaning pool deck.
iRobot Dirt Dog Advantages
Cleans all hard floor types.
The device adjusts with the environment while the only intervention that theuser can do is to push the button start.
It picks up even the toughest particles that it may come in contact with like nails.
It can actually detect the presence of stairs making it safe to leave.
It doesn't damage your belongings.
It is gentle enough to not scratch floors.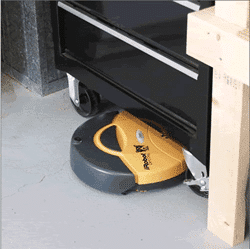 iRobot Dirt Dog Disadvantages
Batteries may die in a matter of 6 months especially if used without letting it rest for hours.
May lose its suction power in the long run that it may not even pull off a single pet hair.
It is very noisy.
The battery lasts for two hours.
It takes a long time to clean a room.
It bumps into things.
Dirt Dog doesn't resume cleaning after recharging its battery.
Dirt Dog vs Roomba



Overview
Description
Brand/Store
Availability
User Rating
Review
Specification
Operating Time (hours)
Charge Time (hours)
Operating Pattern
Scheduled Cleaning
Infrared Sensor
Dirt Sensor
Hardwood, Tile & Linoleum
Carpet
Spot Mode
Height Adjustment
HEPA Filter
Multi-Room Navigation
Battery Indicator
Full Bin Indicator
Cliff Sensor
Charging Base
Return to Charging Base
Bumper
Boundary Markers
Virtual Walls
Remote Control
Dimensions
Weight
Price
Dirt Dog 110 Review Final Words
Dirt Dog 110 iRobot robotic vacuum is a great vacuum if you just need to clean hard floors.
Many buyers are amazed at how much dirt the iRobot Dirt Dog picks up from what appears to be a pretty clean surface.
This robotic vacuum does really well on concrete, tile and wood floors. It has a relatively low price but does a fantastic job of cleaning up dirt, dust, leaves and metal shavings, as well as fine paint dust.
Some people said it is noisy and it is true it produces beeping sound which can bother some people.
One of the big advantages of Dirt Dog is its large dust bin which seems to be big enough to hold a decent load.
Few people reported situations where the iRobot Dirt Dog runs for a few minutes, doesn't bump into anything, then just stops and sits there in the middle of the room beeping, waiting for someone to push the start button again.
Also, be noted, this robotic vacuum does not perform well on carpets. If Dirt Dog is not what you are looking for, then check Roomba 790, or Roomba 780.
Good
iRobot 110 Dirt Dog Workshop is nice to have if you need cleaning only hard floor surfaces. But it is older model by now and isnt manufactured anymore so it is probably better to look for other robotic vacuum cleaner.
PROS
Cleans all hard floor types
Simple one button operation
It picks up even the toughest particles
Detect presence of stairs
It doesn't damage belongings.
It is gentle enough to not scratch floors
CONS
Batteries may die in a matter of 6 months
May lose its suction power
It is very noisy
The battery lasts for two hours
takes long time to clean a room
It bumps into things
Dirt Dog doesn't resume cleaning