Infinuvo Hovo 510 Review PROS & CONS (2022)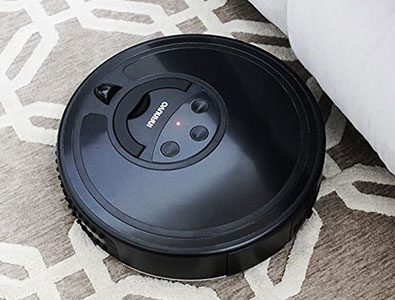 In the world of robotic vacuum cleaners, Infinuvo Hovo 510 is on the lower end of the spectrum. You don't get much cheaper than Hovo 510. The question is, though, can Infinuvo deliver a quality product with such a low price point?
The answer is yes… and no. It does some things very well, but it lacks a few features that some people might find vital. We're going to take all of the guesswork out of your research – read below for a comprehensive review on the Infinuvo Hovo 510.
Infinuvo Hovo 510 Review
Hovo isn't terribly interesting to look at. With a boring, all-black, hockey-puck-like design, it lacks the aesthetic touch. It's difficult to talk about the Hovo's design and features without comparing them to those of the QQ5, as most of the things that the Hovo gets right are really just former flaws that Infinuvo has corrected.
Brushrolls that were a pain to remove from the QQ5 now come out of the Hovo fairly easily. One of the QQ5's biggest dealbreakers was its almost absurdly impractical bin, which featured a bizarre design that spilled more than it held.
Infinuvo Hovo 51 Floor Mopping Robot
How to clean up Hovo 510 dust bin and filter?
With the Hovo, Infinuvo ditched that bin in favor of a more traditional design, one that you can actually use without creating more of a mess than you were trying to clean up in the first place.
Turn the Hovo 510 over, and you'll find a new brushroll design. Brushroll does help the Hovo clean better than the Infinuvos that came before it, which is all that some consumers will care about.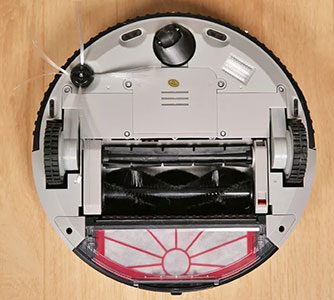 The Hovo gets high marks for its features, which include a virtual wall generator and a remote control. The virtual walls work fine in their basic function, although they aren't quite as smart as the Roomba's virtual walls.
As for the remote control, it's a bit on the bulky side and doesn't nest conveniently on top of the machine. Still, it's fairly easy to use, whether you need to start, stop, steer, or schedule your Infinuvo Hovo. You'll also be able to switch between two speeds. Unfortunately, there's no battery indicator to tell you how much juice the Hovo has left.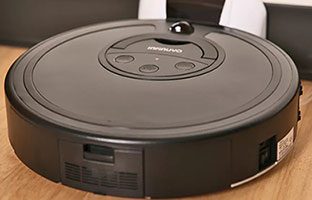 With a push of the Auto button, the Infinuvo 510 will set out to clean, then return when it needs a charge. If you want to send it home early, just hit the Charge button. There's also a spot-cleaning mode, as well as a "Full Charge & Go" function, where the Infinuvo Hovo 510 will automatically begin to clean when its battery is full, return to the base when it needs to recharge, then repeat.
What Are Infinuvo 510 Good Sides?
Even at small price, the Hovo 510 doesn't compromise on features. It has everything that you'd expect a robotic vacuum cleaner to have.
1. Scheduling option
You can instruct the Hovo 510 to run at a certain time every day, or you can set individual times for every day of the week. You can even have it run while you're sleeping. Just make sure to close your bedroom door so it doesn't wake you up.
2. Returns to charging station when battery low
Cheaper robotic vacuums leave this feature out. If they die, they just die and sit there until you either recharge it or trip over it.
The Hovo model 510 will detect when it's low on battery, and it'll return to the charging station. When it's good to go, it'll scoot over to where it left off and resume its work like nothing happened.
3. Remote for precision cleaning
We all have those areas in our houses that seem to always be dirty. A remote is included that uses UV light. Basically, you just point the remote at a certain area of your floor, and the Hovo 510 will immediately stop what it's doing and focus on that.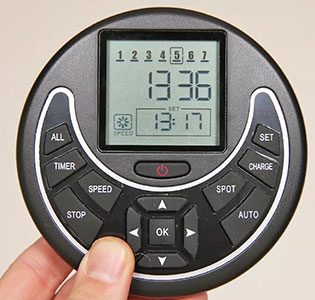 4. Included virtual blockers
Most low-end robotic cleaners will cut corners and force you to buy virtual blockers. Infinuvo doesn't make you do that.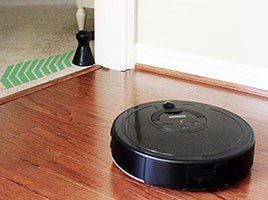 You can close doors to block off entire rooms, and if you'd like to block off a certain portion of a certain room, you can do so with the virtual blocker. This makes it easy to get a clean in without disturbing you.
Infinuvo 510 Replacement Parts
Here are some replacement parts for Infinuvo model 510:
Hovo 510 vs Roomba 780 vs Roomba 790



Overview
Description
Brand/Store
Availability
User Rating
Review
Specification
Charging Base
Cliff Sensor
HEPA Filter
Remote Control
Spot Mode
Virtual Walls
Battery Indicator
Return to Charging Base
Height Adjustment
Price
Scheduled Cleaning
Operating Pattern
Operating Time (hours)
Boundary Markers
Bumper
Carpet
Dirt Sensor
Full Bin Indicator
Hardwood, Tile & Linoleum
Infrared Sensor
Multi-Room Navigation
Weight
Charge Time (hours)
Dimensions
Infinuvo Hovo 510 Review Conclusion
Infinuvo Hovo 510 comes fitted with a Ultra Violet source for deep down bug killing. But it might be better if Infinuvo concentrated on fitting a more powerful vacuum pump to pick up more dirt rather than decontaminate the floor.
Despite having a large side brush, one of the main issues with the Hovo 510 is that it doesn't clean right up to the sides properly, leaving a path around the area that is uncleaned and a haven for dust to build up.
The side brush itself is also a bit of an issue as it rotates rapidly, hitting against one of the underside wheels, which soon starts to inflict wear on it.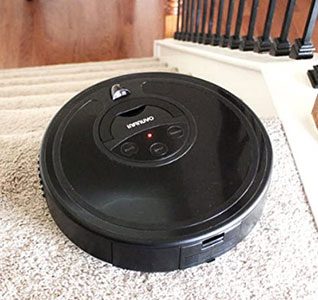 Hovo also seemed to have problems with orientation and recognition frequently crashing into furniture and ornaments in its way.
In fact, moving around and covering an area is another of the Hovo's weak points All robot vacuum cleaners are a little random when it comes to choosing a path to follow and a tad unpredictable, but they generally manage to cover all parts of the area they have been assigned.
Not so with Hovo 510 robotic vacuum cleaner which takes randomness to levels that would impress Schrodinger's famous feline. In fact it's so random that it generally cleans the same spot several times and then ignores others in a weird ballet of orderless movement.
This means that it can miss places where you were hoping that it would spend a little more time altogether, and results in fairly sporadic cleaning.
But this has another, more worrying aspect too, particularly when it comes to finding home. Normally, the Hovo 510 squats on its base station charging and waiting to be summoned to clean certain parts of your floor, and once done, it should return to the base to clean another day.
But in many instances, if Infinuvo Hovo doesn't have a clear and straight line of sight to its base, it simply loses its bearings and has to be taken back.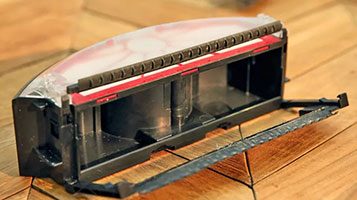 If it's cleaning task involves venturing off to the farthest reaches of a room, or even going into another room, good luck with getting it to return.  Whether it would simply wander around aimlessly until its battery died completely is anyone's guess.
The Infinuvo 510 isn't programmable but does come with a remote control unit to add the growing pile on remotes controls that you already own.
The remote control allows you to start up and stop the Hovo 510 whenever you like. Hovo's remote control lets you speed, spot cleaning, and duration as well as demanding it go charge itself.
The virtual blockers work quite well, but not as well as others on the market. Hovo 510 cleaner cliff sensor is efficient and it is unlikely to fall down the stairs, but then this is just what you would expect from any vacuum product rather than an enhanced facility.
Average
If you have thick carpets and or pets then don't expect to get your house cleaned as well as you would like, because unfortunately, the 510 isn't really up to the job. It has got all of the potential – automatic charging, spot cleaning ability, and virtual wall recognition – that puts it on a par with other makes in the field, but the sum of the good parts don't quite counteract the various downsides to it.
PROS
Can be used on many different surfaces
Fairly powerful vacuum action
Spot cleans very well – when it finally finds the spot
Good sized dust bin
Good battery life
CONS
Gets confused where it has been
No automatic height adjustment
No HEPA filtration
No battery level indicator