iRobot Roomba 585 Review – Best Roomba Model For Pet Owners?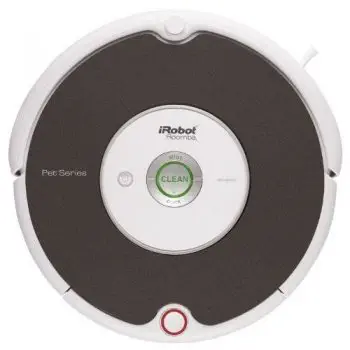 iRobot Roomba 585 robotic vacuum is a iRobot veteran. It older model and newer models had taken its place. But is still effective Roomba? In this Roomba 585 review I will show you all the features this Roomba model has, settings, pros and cons so that you can decide it this robotic vacuum is what you need.
Roomba 585 comes with a charger and cleaning tools as it needs to be cleaned once in a while. No soap and water though, just empty dust bin and use the brush cleaning tool to get him ready for his next job!
Compare
COMPARE ROBOTIC VACUUMS
Picking the right Robotic Vacuum Cleaner is not an easy task. Compare and decide which robotic vacuum cleaner best fits all your needs.
Before you put Roomba to work, you need to make sure he won't get into any trouble. So be sure you pick up anything you don't want him to pick up and keep cords off the floor.
iRobot Roomba 585 robotic vacuum will do the rest of the work for you. The iRobot Roomba 585 robot vacuum cleaner can clean any home in depth, regardless of the type of soil and the obstacles in its path.
It uses flexible cleaning head that adapts to all types of floors for cleaning and vacuuming in depth.
Roomba 585 vs Roomba 595 vs Roomba 630 vs Roomba 650



Overview
Description
Brand/Store
Availability
User Rating
Review
Specification
Dimensions
Weight
Charging Base
Hardwood, Tile & Linoleum
Carpet
Multi-Room Navigation
Operating Pattern
Return to Charging Base
Scheduled Cleaning
Virtual Walls
Charge Time (hours)
Operating Time (hours)
Remote Control
HEPA Filter
Cliff Sensor
Height Adjustment
Boundary Markers
Full Bin Indicator
Battery Indicator
Bumper
Dirt Sensor
Price
Spot Mode
Infrared Sensor
iRobot Roomba 585 Review
It uses advanced cleaning system in 3 stages. Cleaning system is based on the combination of spinning side brush, the central counter-rollers and brush with high pumping speed and efficiency guarantee a greater than 90%.
Thanks to the intelligent navigation, iAdapt, your Roomba will be able to analyze environment up to 60 times per second.
That means iRobot Roomba 585 robotic vacuum will react to the changing environment, finding its cradle and determine the optimal method stay cleaning.
Combined with Dirt Detect technology, your robot will know how to find dirt on its own. Thanks to its interior acoustic sensors that track the environment around memento for debris.
To ensure ability to work autonomously the Roomba 585 uses Cliff Detect technology that can detect slopes and stairs.
For maximum autonomy advanced anti-tangle system will prevent your robot from stucking in carpet tassels, cables or any obstacles he may encounter.
This model also includes 2 Virtual Wall LightHouse, which allow you to define the workspace of the robot and restrict entry to certain areas or rooms.
The iRobot 585 robotic vacuum utilizes AeroVac technology in order to maximize air flow through its cleaning head. It will pull hair and debris off the brushes and distribute it evenly into the bin.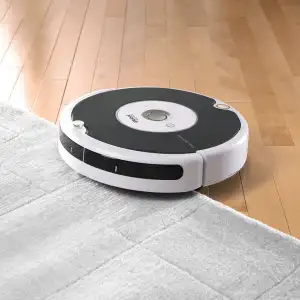 iRobot Roomba 585 is designed with pet owners in mind featuring AeroVac™ Technology and improved brush design for better hair pickup.
Roomba removes dirt, pet hair and much more while automatically adjusting to clean carpets, hardwood, tile and linoleum floors as it moves through your home.
The new simplified brush design utilizes innovative composition and technology for easier, stress-free maintenance.
Roomba features iRobot's iAdapt Responsive Cleaning Technology, an advanced system of software and sensors that allows the robot to vacuum more of your room more thoroughly.
iRobot Roomba 585 Cleaning Robot
Roomba vacuums every section of your room multiple times, getting into areasyou can't easily reach, including under furniture and around everyday obstacles, vacuuming until the job is complete.
Roomba 585 vacuums every section of your room multiple times, getting into areas you can't easily reach. That includes under furniture and around everyday obstacles, vacuuming until the job is complete.
The included Virtual Walls restrict robot access to specific rooms and areas. Roomba will automatically return to its Home Base to dock and recharge between cycles.
All you need to do is press "Clean" and let the robot do the work. Roomba 585 picks up an amazing amount of dirt, pet hair and other debris with its patented 3-stage cleaning system.
A spinning side brush cleans along wall edges, counter-rotating brushes act like a dustpan and broom, and a powerful AeroVac vacuum pulls dirt, hair, and debris off the brushes and into the back of the bin.
PROS:
AeroVac Filter
iAdapt Responsive Cleaning Technology
Dirt Detect Sensors
3 Stage Cleaning
Virtual Walls
Great for pet owners
CONS:
No remote control
No full bin indicator
No option to schedule cleaning
Can get stuck
Virtual Walls create an invisible beam that the robot will not cross, ideal for blocking off rooms or delicate areas. The sleek, compact size of the Virtual Wall effortlessly blends into the decor of any home.
iRobot's Compact Home Base charges Roomba while it is not in use. Roomba automatically returns its Home Base after it cleans the room or when the battery runs low. Either way you can find Roomba on its Home Base the next time you need it to clean.
iRobot 585 Features
3-Stage Cleaning with AeroVac – iRobot Roomba 585 picks up an amazing amount of dirt, pet hair and other debris with its patented 3-stage cleaning system
Dirt Detect – Dirt Detect technology automatically senses dirtier areas and spends more time cleaning them
Virtual Wall – The included Virtual Wall keeps Roomba cleaning where you need it and blocks off-limit areas
iAdapt Responsive Cleaning Technology – iAdapt is iRobot's advanced system of software and sensors that allows Roomba to clean more of your room, more thoroughly. It ensures Roomba vacuums every section of your room multiple times and along walls
Stairs Detection – It even avoids stairs and drop-offs, navigates past soft barriers such as couch skirts, recognizes cords and carpet fringe, and self adjusts to clean hardwood, carpet, and linoleum
Whats in the box:
1 iRobot Roomba 585
1 Robot battery
1 AeroVac Filter
1 Side Brush
1 Bristle Brush
1 Beater Brush
1 Self-Charging Home Base
1 Virtual Wall
1 Extra AeroVac Filter
1 Round Brush Cleaning Tool
*Requires 2 C batteries, not included
Roomba 585 FAQ
Can this model be scheduled to clean?
No, it doesnt have scheduling setting.
How noisy is it?
Same noise as a normal vacuum.
Does the roomba 585 come with a remote?
No, iRobot Roomba 585 robotic vacuum doesnt have a remote control.
What is the life expectancy of a Roomba?
It depends on various factors. It can last for years or few months. In that case there is warranty.
The bin is large enough to clean one medium sized room. When it hits a power cord it switches from clean mode to "escape from the cord mode" until it gets away from it, so moving power cords to where they won't get in its way will result in a more thorough job.
This model only comes with one spare filter and one virtual wall, which in a poor design decision was made to take C batteries.
The virtual wall turns itself off after 1.5 hours to conserve power. The virtual wall works fine in restricting Roomba to one room at a time.
I ran this in the hallway the day after my wife had already vacuumed with the manual vacuum and Roomba picked up a lot more dirt and dog hair than I was expecting. It is very effective at picking up corgi and cairn terrier hair and millet seeds, and it has always been successful at parking itself. It also got a lot of dirt off the kitchen floor so it's not just for carpet. – BUYER

Roomba 585 vacuum cannot clean stairs, furniture or cars. It can get under the bed and under the futon very effectively.
This model does not support scheduling or come with a remote, you do have to physically walk over to it and press the "clean" button to get it started. Unfortunately this model is not upgradeable to a HEPA filter.
Roomba makes cleaning easier, which is a great excuse to buy a toy robot. Unfortunately, if you wish to buy Roomba 585, you will not easily find store that still sells it as it is very old model. You can rather check models like Roomba 790 or Roomba 780.
Good
Although the Roomba 585 was one of the star models and best selling brand it has been overtaken by his predecessors who offer better value. However this is still solid robotic vacuum cleaner.
PROS
AeroVac Filter
iAdapt Responsive Cleaning Technology
Dirt Detect Sensors
3 Stage Cleaning
Virtual Walls
Great for pet owners
CONS
No remote control
No full bin indicator
No option to schedule cleaning
Can get stuck