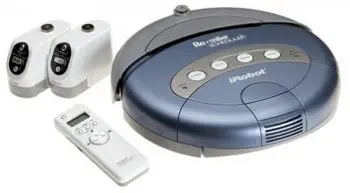 Roomba 4230 Remote Scheduler
The Roomba 4230 Remote Scheduler will start cleaning whenever you tell it to! With Roomba Scheduler, you can easily program Roomba to clean when you want. Roomba will leave the Home Base at your scheduled time, effectively clean the floor, and return to the Home Base to recharge its battery for the next cleaning cycle. If it weren't for the clean floors, you might forget Roomba was there.
Simply program the desired cleaning time into the Scheduler Remote, then send the cleaning schedule to Roomba and the new Virtual Wall Schedulers. Both Roomba and the Virtual Walls will turn on at the time you have scheduled.
Roomba features a patented 3-stage cleaning system that is proven effective. First, the small spinning side brushes grabs dirt and debris in corners and along walls, sending it into the main cleaning path. Second, two counter-rotating brushes pick up large particles, pet hair, and other debris. Third, an extremely efficient vacuum picks up the remaining fine particles. All of the dirt and debris is deposited into a large capacity, easy-to-empty bin.
Roomba's cleaning head automatically adjusts to any floor surface including wood, tile, linoleum and low-to-medium pile carpet. Roomba can even sense dirtier areas of your floor and will clean more intensely there.
Roomba automatically calculates the appropriate cleaning time in any situation. Roomba will cover every part of the room an average of 4 times per cleaning cycle, and because Roomba cleans under furniture and other obstacles–Roomba actually cleans more of the floor than standard uprights. Roomba will even return back to its self-charging Home Base at the end of a cleaning cycle or when its battery is running low.
To start a cleaning cycle, simply press the clean button and Roomba immediately begins calculating the size of the room, the number of obstacles in the room, and the cleanliness of the room. Roomba automatically monitors its environment and adjusts its behavior over 67 times per second.
During a cleaning cycle, Roomba automatically reacts to many different obstacles and situations. Roomba features integrated cliff sensors that allow the robot to turn away from stairs and other cliffs. Roomba's non-marring bumper senses furniture and other obstacles. Roomba also has infrared wall sensors that allow the robot to clean on the perimeter of the room and around obstacles. Roomba also features special escape behaviors that allow it to quickly get out from under chairs and off of troublesome thresholds.
Roomba Scheduler comes with two special Virtual Wall Schedulers to confine Roomba in the area you want to clean. Simply place the Virtual Walls in a doorway and send the cleaning schedule to the Virtual Wall. The Virtual Wall will turn for the duration of Roomba's cleaning cycle. Roomba automatically detects the invisible infrared beam of the Virtual Wall and turns away. Virtual Walls are great for keeping Roomba in one room or away from cords and other obstacles.
Specification:
Roomba 4230 Remote Scheduler
| | |
| --- | --- |
| Operating Time (hours) | |
| Charge Time (hours) | |
| Operating Pattern | |
| Scheduled Cleaning | |
| Dirt Sensor | |
| Hardwood, Tile & Linoleum | |
| Carpet | |
| Spot Mode | |
| Height Adjustment | |
| HEPA Filter | |
| Multi-Room Navigation | |
| Battery Indicator | |
| Full Bin Indicator | |
| Cliff Sensor | |
| Charging Base | |
| Return to Charging Base | |
| Bumper | |
| Virtual Walls | |
| Remote Control | |
| Dimensions | |
| Price | |
Compare
Find Best Robotic Vacuum
Picking the right Robotic Vacuum Cleaner is not an easy task. That is why we made it easy for you. Compare robotic vacuum specifications and find best ratio of price and quality!
Check
Top Rated Robotic Vacuums
If you are interested in what rating did we give for each robotic vacuum in our reviews, then be sure to check best rated robotic vacuums!

Roomba 4230 Remote Scheduler