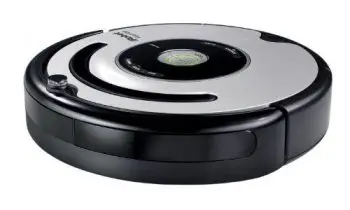 PROS:
Can be scheduled
Dust does not clog the sensors
Brushes are adjustable
Works on dark carpet
Picks up heavy debris
CONS:
Takes ong time to clean the room
Some issues in detecting virtual wall
Sometimes has issues picking light debris
Small dirt bin
No full bin indicator
Needs frequent cleaning
iRobot Roomba 560 is equipped with infrared sensors, and will canvass floors, get into corners, and even clean under beds. You can set a timer so the Roomba automatically starts working.
The 560 is a fifth generation Roomba, which is a significant upgrade from the earlier 400 series. It's generally about the same size and shape, with a 13″ diameter and a weight of about 8 pounds. It's also quite stylish, with a slick black and silver color scheme.
The Roomba is able to clean autonomously thanks to its suite of sensors. Proximity sensors on the front of the robot work with a physical bump sensor to help the robot avoid walls and maneuver around obstacles and furniture. Drop sensors underneath keep the robot from going over stairs or ledges. On top, the Roomba has an infrared sensor that allows it to find its dock and use virtual walls.
All of these sensors provide a limited amount of information about the Roomba's environment and path, but they don't directly tell the Roomba where it is in a given room. Instead, the robot relies on an algorithm to tell it where to go next, and cleans in a variable pattern that ends up covering most areas of a room between three and five times.
Specification:
iRobot Roomba 560
| | |
| --- | --- |
| Operating Time (hours) | |
| Charge Time (hours) | |
| Operating Pattern | |
| Scheduled Cleaning | |
| Infrared Sensor | |
| Dirt Sensor | |
| Hardwood, Tile & Linoleum | |
| Carpet | |
| Spot Mode | |
| Height Adjustment | |
| HEPA Filter | |
| Multi-Room Navigation | |
| Battery Indicator | |
| Full Bin Indicator | |
| Cliff Sensor | |
| Charging Base | |
| Return to Charging Base | |
| Bumper | |
| Virtual Walls | |
| Remote Control | |
| Dimensions | |
| Weight | |
| Price | |
Compare
Find Best Robotic Vacuum
Picking the right Robotic Vacuum Cleaner is not an easy task. That is why we made it easy for you. Compare robotic vacuum specifications and find best ratio of price and quality!
Check
Top Rated Robotic Vacuums
If you are interested in what rating did we give for each robotic vacuum in our reviews, then be sure to check best rated robotic vacuums!