iRobot Roomba 560 Accessory Kit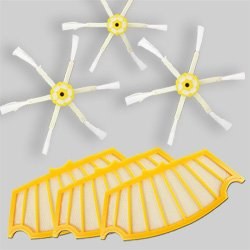 iRobot Roomba 560 accessory kit compatible with Roomba 560 and all Roomba 500 series all floor robotic vacuum cleaners. Kit can include battery, main brush, side brush, hepa filter, etc.
Roomba 560 Accessory Kit Features:
1. Clean brushes keep your home robot operating at peak performance.
2. Side brushes are easy to remove and replace as part of routine maintenance.
3. Replacement filters for iRobot Roomba 500 Series and Roomba Professional Series Robots.
4. Filters maintain Roomba's cleaning performance while reducing infiltration of dust, pollen and other allergens into the air you breathe.
5. For best results, filters should be replaced every 1 – 3 months.
05/08/2022 09:04

Amazon.com
Last update was on: 05/08/2022 09:04