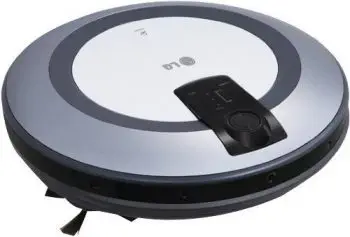 LG HomBot 1.0 Robotic Vacuum
PROS:
It doesn't lose it way
Good for pet owners
Diagnostic messages when something not right
Scheduled cleaning
Good for all floor types
Dual brushes
CONS:
Small dirt holder
It can often stuck
Beeps often
Dirt can't hide from Hom-Bot. It has a powerful main brush for dirt throughout the home and side brushes for edges and corners. The side brushes sweep corners and edges while the main brush picks up heavier dirt and dust. The fan picks up more debris and expands clean air while it also features an efficient air path for hygiene and less noise.
With a camera mounted on the bottom, Hom-Bot maps the area around your home as it cleans. It also calculates the optimal cleaning paths to make sure it doesn't miss a spot. Scheduled cleaning (2, 6, 12 hour timer) so your home is spotless when you return home. It even features auto-recharging and will resume cleaning where it left off. Sensors around the side of the vacuum prevent the vacuum from falling down stairs/tables or bumping into walls.
You control when you want Hom-Bot to clean, whether you're going to be home or not. Just set the schedule and Voice Alert announcements will let you know when the cleaning is done.
While Hom-Bot's cleaning technology makes people take notice, it still manages to clean quietly, thanks to smart design features like insulation that's meant to absorb vibrations and reduce noise. It creates low noise so you can carry on your daily activities without interference – just an incredible 50dB.
Specification:
LG HomBot 1.0 Robotic Vacuum
| | |
| --- | --- |
| Operating Time (hours) | |
| Charge Time (hours) | |
| Operating Pattern | |
| Scheduled Cleaning | |
| Infrared Sensor | |
| Dirt Sensor | |
| Hardwood, Tile & Linoleum | |
| Carpet | |
| Spot Mode | |
| HEPA Filter | |
| Multi-Room Navigation | |
| Battery Indicator | |
| Cliff Sensor | |
| Charging Base | |
| Return to Charging Base | |
| Boundary Markers | |
| Virtual Walls | |
| Remote Control | |
| Dimensions | |
| Weight | |
| Price | |
Compare
Find Best Robotic Vacuum
Picking the right Robotic Vacuum Cleaner is not an easy task. That is why we made it easy for you. Compare robotic vacuum specifications and find best ratio of price and quality!
Check
Top Rated Robotic Vacuums
If you are interested in what rating did we give for each robotic vacuum in our reviews, then be sure to check best rated robotic vacuums!

LG HomBot 1.0 Robotic Vacuum