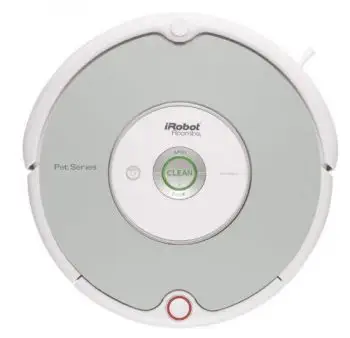 PROS:
Makes use of three stages of cleaning
It traps more pet hair
Charges by itself
Dirt is detected using acoustic sensors
Packed with latest technology
CONS:
Doesn't perform best in rooms with furniture
Cleaning device takes time
While iRobot Roomba 532 pet series will not do job as vacuuming manually, its cleaning ability is impressive, especially in cleaning close to the wall to pick up the hair that accumulates from a pet.
Designed especially for pet owners, the iRobot Roomba 532 vacuum cleaning robot cleans up to three standard-sized rooms on a single charge. It comes equipped with an extra set of easy-to-clean brushes, a high capacity sweeper bin for trapping even more pet hair, kitty litter or dander, and cleaning tools for ensuring both sets of brushes remain free of debris so they can perform optimally.
The sweeper bin holds three-and-a-half times more debris than the vacuum bin, and counter-rotating brushes reach deep into carpets to pull out pet hair and dander.
The 2 compact Virtual Walls tell the Roomba 532 where to clean by restricting off-limit areas. When the cleaning is complete, or if the battery is running low, Roomba automatically returns to the compact, self-charging Home Base to dock and recharge. A sturdy bristle brush digs deep into carpet fibers to grab dirt, debris, pet hair and more, while a fine filter traps dust, pollen and tiny particulates inside the bin. It automatically senses and avoids stairs and other drop-offs, and even detects dirtier areas and spends more time cleaning them.
The Roomba 532 includes two interchangeable cleaning bins. The High Capacity Sweeper Bin holds three times more debris than the vacuuming bin and is ideal for use in larger spaces and dirtier, high-traffic areas, while the Vacuuming Debris Bin is ideal for routine maintenance of all floors and cleaning deep into carpet and rug fibers.
Specification:
iRobot Roomba 532
| | |
| --- | --- |
| Operating Time (hours) | |
| Charge Time (hours) | |
| Operating Pattern | |
| Scheduled Cleaning | |
| Infrared Sensor | |
| Dirt Sensor | |
| Hardwood, Tile & Linoleum | |
| Carpet | |
| Spot Mode | |
| Height Adjustment | |
| HEPA Filter | |
| Multi-Room Navigation | |
| Battery Indicator | |
| Cliff Sensor | |
| Charging Base | |
| Return to Charging Base | |
| Bumper | |
| Virtual Walls | |
| Remote Control | |
| Dimensions | |
| Weight | |
| Price | |
Compare
Find Best Robotic Vacuum
Picking the right Robotic Vacuum Cleaner is not an easy task. That is why we made it easy for you. Compare robotic vacuum specifications and find best ratio of price and quality!
Check
Top Rated Robotic Vacuums
If you are interested in what rating did we give for each robotic vacuum in our reviews, then be sure to check best rated robotic vacuums!