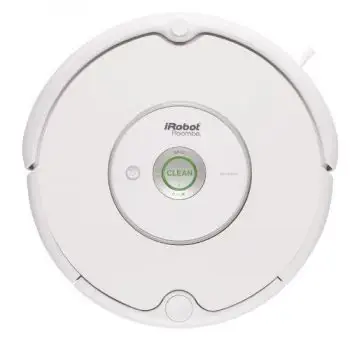 iRobot Roomba 530 Vacuuming Robot
PROS:
Able to find the docking station at any point
Detects dirt
Cleans beneath furniture
Self-adjusting cleaning head
Powerful vacuum
CONS:
No remote control
No scheduling
Often gets stuck
For added convenience, the vacuum's cleaning head automatically adjusts to transition from wood, tile, and linoleum to carpets and rugs, while improved anti-tangle technology ensures it won't get stuck on cords and rug fringe. If the unit begins to pick up a cord or carpet tassel, it will automatically reverse the direction of its brushes to extract the item.
A gentle-touch bumper system senses obstacles so the vacuum automatically slows its approach, gently touches the obstacle, then redirects to continue cleaning under or around the object. Because it cleans under beds, couches, and other hard-to-reach areas, it actually vacuums more of the floor than a standard upright can.
The vacuum also senses dirtier areas and spends more time cleaning them, and it uses built-in cliff sensors to avoid stairs and other drop-offs. In addition, invisible barriers can be set using the unit's Virtual Wall system.
To mark off-limit areas, simply place a Virtual Wall at a doorway or other opening and adjust the infrared beam setting to the distance of the opening. The unit automatically detects the beam and will not cross it.
The vacuuming robot returns to its self-charging Home Base to dock and recharge between cleaning cycles or when the battery starts to run low. Its advanced power system consists of a fast-charging battery, a three-hour charger, and a power source that supercharges the unit for up to 120 minutes of continuous cleaning, covering about three to four average-size rooms on a single charge. Other accessories include two Virtual Walls (that require two D batteries each), a brush cleaning tool, and an extra filter.
Specification:
iRobot Roomba 530 Vacuuming Robot
| | |
| --- | --- |
| Operating Time (hours) | |
| Charge Time (hours) | |
| Operating Pattern | |
| Scheduled Cleaning | |
| Infrared Sensor | |
| Dirt Sensor | |
| Hardwood, Tile & Linoleum | |
| Carpet | |
| Spot Mode | |
| Height Adjustment | |
| HEPA Filter | |
| Multi-Room Navigation | |
| Battery Indicator | |
| Cliff Sensor | |
| Charging Base | |
| Bumper | |
| Boundary Markers | |
| Virtual Walls | |
| Remote Control | |
| Dimensions | |
| Weight | |
| Price | |
Compare
Find Best Robotic Vacuum
Picking the right Robotic Vacuum Cleaner is not an easy task. That is why we made it easy for you. Compare robotic vacuum specifications and find best ratio of price and quality!
Check
Top Rated Robotic Vacuums
If you are interested in what rating did we give for each robotic vacuum in our reviews, then be sure to check best rated robotic vacuums!

iRobot Roomba 530 Vacuuming Robot