Neato XV Signature Pro Review PROS & CONS (2022) Pet & Allergy Robot Vacuum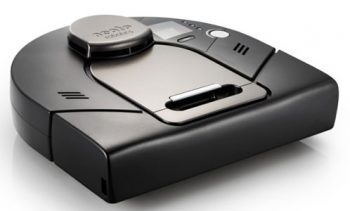 In this Neato XV Signature Pro review I will sHow you pros and cons of this popular robotic vacuum. Neato XV Signature Pro is relatively easy to use. It's laser-guided mapping system allows the robot to clean around your home efficiently by avoiding obstacles.
Bear with it, it's not quiet, and you'll have to keep the brushes free of tangles and build-up, specifically when you are a pet owner. But these minor concerns cannot degrade the overall performance of Neato XV Signature as it provides real bang for the buck.
Neato XV Signature Pro Review
Let's discuss the Neato XV Signature Pro in details.
Design and Features
It resembles in design with Neato XV-21 Pet & Allergy vacuum cleaner. Instead of the usual garish purple, orange, and grey finish, Neato ultimately used black and grey design.
Neato Robotics XV Signature robot vacuum weighs around 8.2 pounds and measures around 3.7 by 12.7 by 12.5 inches (HWD), though it's big but comes with a built-in handle on the top of the chassis making it portable enough to move easily from one room to another.
The XV Signature contains a removable dirt bin at the top and filter assembly which is capable to store three-quarters of a quart of debris, laser-guided Vision System, a 1.7-by-1.7-inch LCD panel, a large Start Button, and four programming buttons.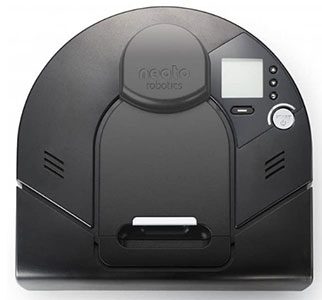 The laser guidance allows the vacuum to map the complete floor plan to provide excellent cleaning based on the furniture placement, doorways, walls, and different floor types etc.
For the first time, when you hit the press button, Neato Robotics XV Signature PRO undocks itself from the docking station and scans the entire room before it begins cleaning. It repeats this every time you start a cleaning session and will continue to traverse through rooms as long as the path is clear.
Neato Robotics XV Signature robot vacuum cleaner usually cleans the perimeter of the room, and, working in straight lines, moves on the interior section.
The Signature PRO doesn't have the puck-shape. Instead has straight front-end bumper which moves the robot away from obstacles and furniture.
Whereas, the curved back is helpful to penetrate into tight spaces. On the edges, there is an exhaust vent and two metal strips which makes the connection with the dock to charge the robot, when the Neato XV returns back.
The charging base measure around 5 by 13 by 2.2 inches (HWD) and resembles with the finish of the vacuum. Similarly, it has an AC power cord which is hard-wired into it, a release button that can be used for the backend panel, a pair of metal charging strips to connect with the vacuum's strips.
A curved LED indicator located near the Start button gives the glance of the status of the vacuum. A solid green light indicates the battery is full, however, the pulsing green light indicates it's charging.
A pulsing amber light tells that Neato XV Signature PRO is not in a condition to be used, and a solid amber light shows different types of errors, like a dustbin, is full, drop sensors need cleaning, the brush is jammed or the bumper is stuck. In all of these situations, the LED screen will blink.
Flip over the Neato XV Signature PRO Pet and you will see two smaller stabilizer wheels, drop sensors at both sides to avoid falling down the stairs, two battery components that house rechargeable nickel metal hydride (NiMH) batteries, a combo roller blade/brush of 9.2-inches, and two main drive wheels.
It takes about 180 minutes to recharge and if runs low on battery during the session it returns automatically to the docking station, recharge, and returns to the exact spot where it left off to resume cleaning.
The box contains, a one-inch wide magnetic strip to restrict the entrance of the robot in specific areas, an extra blade roller, an 80-inch long boundary marker, an extra filter and a quick start guide.
You can cut the strip with scissors and create custom borders anytime, anywhere in your home. Unlike the Roomba 790, it lacks wireless remote, which means you can remotely activate the robot, create cleaning schedules, or move the bot from one room to the other.
Navigation
Unlike the iRobot that goes in a random pattern, Neato has a more predictable pattern that starts by mapping out the perimeter, working the edges and then moves inward in a straight back and forth pattern until it finishes the room.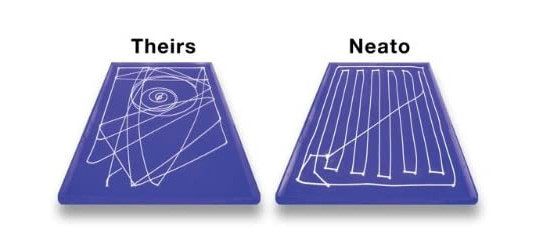 It uses lasers to map out the size of the room and avoids obstacles not bump into them.
When battery needs recharging, it'll return to the charging station and goes back where it left off – a great feature that increases efficiency but unfortunately not all manufacturers have. Also firmware upgrades are available through a USB port.
Consumers have reported better corner and edge cleaning with the 3.2 firmware upgrade.  It might take some time to clean an entire room compared to an iRobot.
As with all robot vacuums, leave AT LEAST 3-feet of open space around the charging station to avoid issues with docking.
Performance
The Neato XV Signature Pro Pet & Allergy robot vacuum cleaner is very handy. It only requires the push of a button to start cleaning, when it's charged. If you want to vacuum to get the job done quickly better remove the obstacles like shoes or toys from its way.
The vacuum runs in full cleaning mode by default, but you can use the Spot Clean mode to do a smaller area of around 4 by 6 feet.
You can choose the language, set the internal clock, and program the vacuum on schedule on certain days and times. The XV Signature pro can efficiently remove large and small clumps of pet hairs, pick up scattered cat litter, rice, backyard dirt, shards of the broken glass, small scraps of paper.
Neato XV Signature Pro cleaning
But it will struggle with the big particles stuck in the shag carpets, but eventually ends up sucking them. It's prone to get tangled with the cords and requires untangling sessions.
The time it takes to clean your home or rooms totally depends on the layout and settings of your furniture. It can move fast on hardwood or tiles floor. Getting into the tighter spaces can be difficult so better spend on a cordless handheld vacuum to manage with tight spaces.
The drop sensors are efficient enough that they will detect the stairs preventing the Signature XV from falling down. It can move smoothly around the legs of chairs or tablets, thanks to the laser navigation.
For noise, it's relatively quiet, but you will notice Neato XV Pro gets significantly louder as it cleans. But it's hardly noticeable if you are watching TV around in the same room. You would barely listen to the vacuum, but sometimes you will feel you need to raise a few points of volume on your TV.
Bare Floor, Rugs & Carpet Cleaning
All Neato Robots primarily use suction that's augmented by a motorized brush to pick up dust, dander, pet hair and even cereal off bare floor.
While it doesn't have any corner brush like the iRobot that makes edge cleaning a little suspect but its shape makes it better suited to reach corners better though dirt pick up here is lacking as well.
With its good suction power and beater bar will work great on low to medium pile carpet but will have difficulty on thick carpets.
A lot of people were satisfied with its performance on this surface because of the combination of good suction power and the motorized brush.
It doesn't have a problem transitioning from hard floor to rugs but it might not pick up dirt on the corners of rugs, especially thick ones.
Does well in cleaning pet hair both on hard floor and carpet because it has a motorized brush but remember to regularly clean it when there is build up in order to maintain performance over the long haul.
Because it traps fine allergens, HEPA filters need to be replaced once every 2-3 months.
The filters in the Signature Series Pro can be washed in running water, some use compressed air or a hand vac to clean. I'd discourage using compressed air because damages the make-up of the filter that traps allergens.
After every cleaning cycle, empty dirt bin so it doesn't bog down. It does let you know if it needs to be emptied.
Neato Signature vs Neato XV-14 vs Neato XV-21



Overview
Description
Brand/Store
Availability
User Rating
Review
Specification
Charge Time (hours)
Charging Base
Operating Time (hours)
Weight
Dimensions
Multi-Room Navigation
Return to Charging Base
Remote Control
HEPA Filter
Cliff Sensor
Height Adjustment
Full Bin Indicator
Virtual Walls
Scheduled Cleaning
Carpet
Hardwood, Tile & Linoleum
Operating Pattern
Price
Bumper
Battery Indicator
Spot Mode
Infrared Sensor
Boundary Markers
Dirt Sensor
Customer Neato XV Signature Pro Reviews
Most were happy with their purchased and interestingly enough a lot of those buyers also owned an iRobot (though an older model), and they preferred this over the former because it had good suction power and it ran a more predictable pattern plus it doesn't bump into furniture as much.
There were only a few pet owners who reviewed this product but all were happy with how this removed pet hair on hard floor and carpet.
Complaints here mostly focused on two things – short battery life and the tendency of it to get stuck.
The first issue was mostly due to lemon units from the manufacturer so again as I've said in my reviews before, upon receiving it always put it to its paces – you have a 30-day window wherein you can send this unit back for a refund.
Second issue was because of the position of the laser with sits roughly around 3-4 inches above the ground, it cannot see what's on top or what's below it so if there is something in front of the robot that's under 3 inches, it won't "see" it and either will move around or get stuck trying to move around.
Overhanging fabric could also cause issues so it'll be better to fold them up out of the way.
Neato XV Signature Replacement Parts
Neato XV Signature Review Conclusion
Finally, the Neato Signature XV is a powerful robot vacuum that does an outstanding job of picking up every straying hair, dirt, debris and backyard soil. The laser-guided mapping makes allows the vacuum to move efficiently around the corners of your home, tables or chairs.
The scheduling features let you program it to clean for certain days and time. But it lacks remote control and brushless cleaning like the Roomba.
Overall, the Neato XV Pro is a moderately priced robot vacuum that offers excellent navigation using the laser guidance and effectively cleans every square inch of your home.
Good
With the XV Pro, Neato allows home owners to have an opportunity owning a robot vacuum that will clean their homes efficiently faster than most robots in the market because of its laser guided navigation. It has HEPA filtration (allergy sufferers this is for you) and it comes with two types of brushes – one for hard floor and another for carpet.
PROS
Excellent performance
Reasonably priced
Strong suction
Amazing navigation system
Easy to use
Comes with 2 brushes for carpet and hard floors
You can schedule this to clean your home autonomously
Picks up pet hair
You can use this to spot clean or clean more than one room
HEPA filtration
Let's you know when it needs to be emptied
CONS
Loud
Short run time
Long charge time
Does not have a remote
Does not hold too much dirt
Can't clean edges well