Neato XV 21 Filters Replacement Part 945-0048 Filter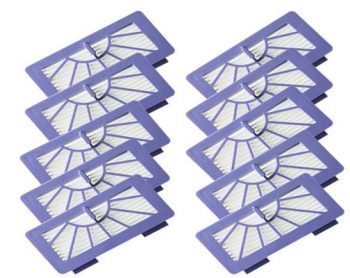 Neato XV 21 filters are supposed to be replaced every few months. These filters fit in Neato XV-21 robotic vacuum perfectly and do the exact same job as the Neato branded ones but at a fraction of the price. They can fit in any Neato XV series robotic vacuum.
Neato sells theirs at about $25 for two filters whereas you can get these for about $10 for four.
Neato XV 21 Filters 945-0048
Here are few observations from buyers about Neato XV 21 replacement filters:
1) The filters are held in place with a lot more hot glue compared to the OEM filters
2) The filter material sometimes gets clogged very easily.
3) The plastic frames that hold the filter in place may or may not fit your Neato dirt canister properly.
4) You can keep Neato XV 21 filters in working condition for a longer time by vacuuming the filter with a regular vacuum.
Buy Neato XV 21 Filters Replacement
Filters reduce infiltration of dust, pollen and other allergens. Filters are designed especially for pet owners and allergy sufferers. High efficiency filters built to capture dander and fine dust particles.
Pleats in filter cloth create a larger surface area than standard filters and trap 3 times more dust and dander to reduce allergins in your home.