Neato XV-14 Review PROS & CONS (2022)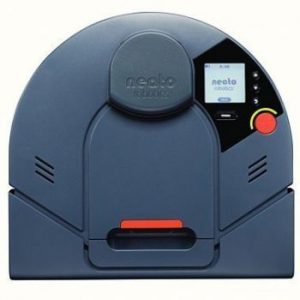 Neato XV-14 automatic robotic all floor vacuum will satisfied all your vacuuming needs. It is very simple to use. It can clean floor, carpets, rugs, hardwood, tiles and more. If you need robotic vacuum for hard floor surfaces only, then you should probably check out Mint Plus 5200C.
Majority of people loathe when they need to clean house. Vacuuming is recommended at least once every two weeks. Like any other robotic vacuum Neato XV-14 cleans automatically. The room positioning system sees the layout of every room. That makes possible avoiding bumping into walls, furniture and any other obstacles.
The Neato XV-14 is basically an XV-11 that comes with extra accessories. Accessories include 3 extra filters and brush blades plus one extra replacement squeegee. It also comes in a dark blue color that looks like an Nintendo game console rather than a modern robot.
This thing can go places I never thought a robot would find its way into. It has an almost intuitive problem solving solution to rough terrain, where it will back into an object and raise the back of the device over it…. – Buyer
The mentioned Room Positioning System is technology that makes Neato as smart as a human housekeeper (At least that is what seller tells us). It sees 360 degrees, maps out your room, and then methodically vacuums every square inch, carefully avoiding any furniture, obstacles and stairs. It can also adapt if you rearrange the furniture.
The downside to this technology is that the laser only detects objects within its line of sight. It can get stuck under furniture if the sensor doesn't see an overhanging object (the side of the bed is just above the line of sight of the sensor).
High-performance vacuum inside Neato XV-14 vacuum cleaner works in a precise back-and-forth motion, picking up even tiny specks, and easily sliding under sofas, tables and beds.
Once it's finished in one room, it will begin working in the next or return automatically to its base for recharging. After charged it will resume cleaning where it left off. You can even schedule cleaning with a few simple button presses. Your house will always be ready for guests.
Neato XV-14 Review
All Neato products are the similar if you compare the motor and navigation system, the difference lies within the cleaning brush, color and the accessories included in the package.
Uses a laser guided sensor to map out a room
It can be scheduled to automatically clean once a day, 7 days a week
Comes with 3 extra filters, brush blades and a replacement squeegee
Does not have HEPA filtration
Auto adjustable height makes it compatible on hard floors as well as plush carpet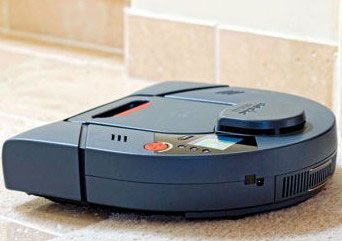 Neato XV-14 features:
One-Button Operation – To begin or start cleaning one push of the button is enough. T

he NEATO XV-14  is very user-friendly. To begin vacuuming the floors all you need to do is press 'clean' and the device will embark on its cleaning journey. 

Status Light – It is ready to clean when green light is on. If the light is amber color, then it probably needs additional charging
Dirt Bin – Dirt bin is very easy to empty and clean.
Control Center – You can program Neato XV-14 when to start cleaning. There is no limitations when setting up vacuum schedule. It will clean daily, weekly or as often as you want.
Charging Base – In order to be always fully charged it is recommended to leave it in charging base
Boundary Markers –  With boundary markers you control where XV-14 should vacuum. Cleaning only those areas you want it to clean. If you have lots of cables beneath your desk or a room you just don't want the Neato to clean, just put out the boundary markers, press start and the Neato will clean everywhere but those areas you designated as off-limits.
Rectangular front design – Allows vacuuming close to walls and into corners.
A Neato robot is only 4" high – Because it's fairly low, it can vacuum under beds, couches and other places regular vacuums can't go.
Vacuums in straight lines
Cleans carefully around obstacles
Automatic doorway recognition – Assures that it completely cleans one room before moving on to the next.
Navigation
Neato uses a laser sensor that scans a room 360 degrees before starting its mission. This same sensor also detects potential obstructions like furniture and avoids them outright.
The downside to this technology is that the laser only detects objects within its line of site so anything over or under it cannot see and will bump into it.

This is where the bumper comes into play, if it detects that it has bumped into an object, it tells the robot to move in another direction.
It can get stuck under furniture if the sensor doesn't see an overhanging object – the side of the bed is just above the line of sight of the sensor.
What buyers are saying about Neato XV-14
I purchased one of these for my 700 square feet apt, have a dog and a cat, and I can proudly say the Neato does its job well.

This little machine can get around well. It's not perfect, but when you think of all the possible obstacles a machine like this might encounter, it's a wonder the thing can get the job done at all.

This is my third Neato, but this model is very quirky compared to others and the suction not as good.

I bought this unit and a little over 6 months later the batteries died and would not hold a charge.

Finally, I found the only solution to clean up my wife's cat hair. I don't need to deal with this issue any more and I am so happy with my purchase. My house is very clean now especially when I schedule the cleaning when I am not home everyday.

I have allergies, and this

XV14

Neato vacuum cleaner does a great job of cleaning not only under my furniture but all through the house.
This is possibly the best product

i

have ever owned.
Neato XV-14 Pros & CONS
Here are some advantages and disadvantages:
PROS
1. Different Shape: Where many other robot vacuums on the market are round and have a difficult time picking up all the dirt, dust, and debris along baseboards and in the corners, this unit has a flat end that allows it to get into those hard to reach areas.
The Neato XV-14 is also built with a low profile which allows it to get under all types of furniture, saving your back from having to move couches and beds, and clean those areas that would be impossible to get to with an upright unit.
2. Good Scheduling Ability: When you schedule a cleaning, you won't have to worry about being around in case the battery begins to die. When the battery level gets low, the unit will return to the included charging station automatically and once fully charged, will continue to the process where it left off.
The Neato XV-14 can also be operated with ease by simply hitting a single button. Some robot vacuums are often too difficult to schedule, but by simply hitting one button, you will be able to direct your vacuum to clean your home.
3. Excellent Versatility: A big positive to most robot vacuum owners is its ability to operate on any type of flooring without the need to change the brush or complete any maintenance.
The Neato XV-14 will automatically adjust itself to the different floor surfaces in your home including hardwood, carpet, tile, linoleum, and more. Being able to adjust automatically makes the home owner's job easier and allows for worry-free operation seven days a week.
Even if the vacuum just so happens to not be able to make it up a carpet, the Neato XV-14 will reverse and take a different angle to ensure it completes the process.
4. Great Mapping: What helps set this product about from many others on the market today is its laser guided scanning that examines each room. The laser will continually scan the room it is in to determine the best route needed to clean all the dirt and debris from the floor.
This unit was built with Smart Path Planning, which is what makes it operate with such a systematic approach.
5. Better than Expected Speed:The Neato XV-14 cleans with a quick pace, but it still cleans almost the entire floor in your home. One would think that operating quickly will mean the vacuum would miss some of the dirt and debris on the floor, but this vacuum is extremely effective in completing the job as requested.
CONS
1. Noise: Upright vacuums give off a lot of noise and that is one of the reasons why people are turning to these robotic vacuums. People hate the noise and pets especially despite it.
While this vacuum doesn't operate as quietly as other models in the market, it is still better than walking your upright model around every room in your home.
You likely won't be able to operate this unit in the room of your sleeping child, but it will still complete the job as needed in your home.
2. Pet Hair Causes Some Difficulty: If you live in a home that includes pets, this might not be the vacuum for you. There are several other pet-specific models that will pick up dog and cat hair better than this model.
It will pick up some dog hair, but if you own a dog that sheds more than normal, it will be a problem. Although, if your home doesn't contain pets, then it should be powerful enough and contain a large enough dust bin that will allow it to operate and pick up everything in its path.
3. Battery Isn't As Strong as Newer Models: Since this is an older model, the battery Neato used is sub-par compared to newer models from the BotVac series.
The battery will work fine during the first few months of operation and if you schedule it to run while you aren't home, you may never find a problem to begin with. Despite the poor battery life, the unit will return to the charging station and pick up where it left off.
It will never not complete its scheduled operation, so in the end, it will still complete the process. Another possible issue that could arise with your Neato XV-14 involves the charging unit. If it isn't completely level on the ground, then it will not properly sit and charge.
4. Extension Cords Cause Problems:For the most part, this product will do a great job of avoiding obstacles like bedspread, couch skirts, and curtains, but it does have a problem with items like extension cords and phone charging cables that are dangling to the floor.
The end of the wire will get stuck in the vacuum a bit, but it can easily be removed from the unit. It will also run into problems if it encounters tissues or larger pieces of paper on the floor.
Replacement Parts for Neato-XV-14
Neato XV-14 vs Neato XV Signature vs Neato XV-21



Overview
Description
Brand/Store
Availability
User Rating
Review
Specification
Charge Time (hours)
Charging Base
Operating Time (hours)
Weight
Dimensions
Multi-Room Navigation
Return to Charging Base
Remote Control
HEPA Filter
Cliff Sensor
Height Adjustment
Full Bin Indicator
Virtual Walls
Scheduled Cleaning
Carpet
Hardwood, Tile & Linoleum
Operating Pattern
Price
Bumper
Battery Indicator
Spot Mode
Infrared Sensor
Boundary Markers
Dirt Sensor
Neato XV-14 Review Conclusion
The Neato XV-14 has many positives that make it a great buy for your home, apartment, or condo.
It uses laser guided technology to make a systematic approach to cleaning your floors, adjusts to the different floor surfaces in your home, cleans most dirt and debris in the corners and along the baseboards, and can be scheduled to run with just a touch of a button.
It isn't the best product for cleaning up pet hair and dander from dogs that shed heavily, but it does clean up hair from smaller dogs
PROS
Can get under all types of furniture
Easy to use scheduling options
Ability to operate on any type of flooring
Great room mapping
Cleans with a quick pace
Cleans way more efficiently than other robot vacuums
Laser sensor detects obstacles and avoids them
Displays the actual error on screen so this takes away guess work if something goes wrong
Batteries can be replaced
CONS
Little noisy
Not the best performance for cleaning pet hair
Poor battery life
Extension cords cause problems
Doesn't have a remote