iRobot Roomba 790 Review PROS & CONS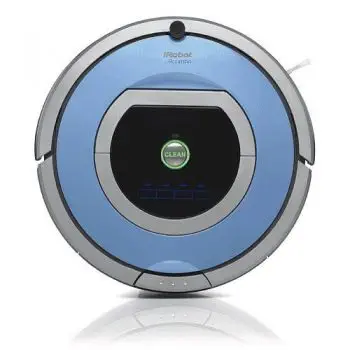 iRobot Roomba 790 is the latest in a fairly long line of a robot vacuum cleaning machines from iRobot. In this iRobot Roomba 790 review I will show you all the features this robotic vacuum can offer as well as its pros and cons.
It is the higher end model for the successful 700 series vacuums. In this review we will be looking at what makes this machine tick and whether it is worth your money and time.
iRobot Roomba 790 is equipped with all premium features of Roomba 700 series vacuum cleaners. Roomba 790 is said to remove up to 98% of pet hair, dust, dirt and other debris. So if you are dog owner or have pets in-house, this robotic vac system will be great for your household.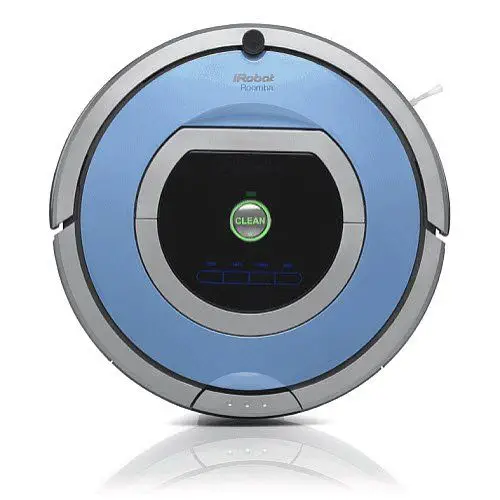 iRobot Roomba 790 Vacuum Cleaning Robot
iRobot Roomba 790 is said to remove up to 98% of pet hair, dust, dirt and other debris. So if you are dog owner or have pets in house, this robotic vac system will be great for your household.
iRobot Roomba 790 Review
iRobot Roomba 790 uses iAdapt Responsive Cleaning Technology. That means iRobot Roomba 790 Vacuum maximizes cleaning by adapting to your household environment.
iAdapt Technology monitors the cleaning environment more than 60 times per second, using multiple sensors (like cliff detection) and dozens of behaviors (including wall following) to clean your home. It allows vacuum cleaner to clean hard to get places in your house.
Just like you, it spends more time cleaning the dirtiest areas of your floor, ensuring the cleanest possible results.
The Roomba is doing what I hoped it would. This is my first time experiencing this sort of technology, so this was a risky purchase for me.

However, the Roomba is nearly effortless to utilize, and it is picking up the dog hair, and more, from our carpets and wood floors without any hassle.- Buyer
iRobot 790 uses Roomba's Dual HEPA filters which stop fine dust from circulating in your home, leaving behind fresher air. It seems you get 2 in 1 options. Robotic vacuum cleaner and air purifier.
iRobot Roomba 790 Vacuum Cleaning Robot at work
The robot's Dirt Detect Series 2 technology finds the dirtiest areas in your house hold and performs concentrated cleaning there, ensuring the whole floor is thoroughly clean.

The robot's Dirt Detect Series 2 technology finds the dirtiest areas in your house hold and performs concentrated cleaning there, ensuring the whole floor is thoroughly clean.
Room to room navigation is possible with the included Virtual Wall Lighthouses, which confine Roomba to methodically clean one room at a time allowing the robot to move to the next room when finished.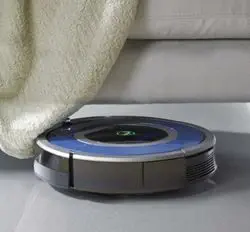 You will always know when dust bin of iRobot Roomba 790 Vacuum Cleaning Robot is full. It has notification system and you will know when dust bin needs to be emptied.
With Roomba's on board scheduling you can set up when you want it to start vacuuming. You don't even have to be at home. It will automatically start cleaning as per your programing instructions.
iRobot 790 Roomba uses 3-stage cleaning process. It will vacuum carpets, hardwood, tile and linoleum floors on its own, automatically adjusting to different floor surfaces as it moves through your home.
It definitely is all floor robotic vacuum cleaner.
Roomba knows which areas to clean and which to avoid. As previously mentioned it uses iRobot Virtual Wall to clean one room and then head over to next one.
Roomba also charges itself, going back to its Home Base to dock and recharge between cleanings.
It picks up a decent amount of dog fur, dust, etc. around the house. It's nice to just push a button and have it help out with the cleaning.

Obviously it can't get in every nook and seems to randomly go around cleaning so will miss some areas. But it's nice to have to help out with a majority of the cleaning.-Buyer
iRobot Roomba 790 Features
Advanced Cleaning Head: Designed with pet owners in mind, the new cleaning head provides superior performance for picking up pet hair, dirt, dust, allergens and more
AeroVac™ Series 2 Bin: Employs a powerful vacuum to vigorously pull debris and hair off brushes into the bin. An efficient single-chamber bin fills evenly and holds more debris than previous Roomba series.
Dual HEPA Filters: Capture dust particles as fine as 0.3 microns, limiting the recirculation of fine particles and leaving fresher, healthier air behind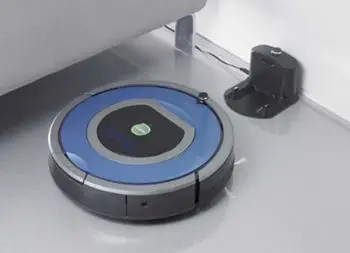 Persistent Pass Cleaning Method: Employs a back and forth cleaning pattern to apply elbow grease in areas where it senses excessive dirt
Molded Soft-Touch Bumper: Cushions the contact made between Roomba and walls, furniture and other objects, protecting household items while it cleans
Dirt Detect Series 2: Uses optical and acoustic sensors to find dirt and debris, performing concentrated cleaning in the dirtiest areas and ensuring the whole floor is clean
Wireless Command Center: makes initiating a cleaning, scheduling and steering Roomba even easier
On-board scheduling: The irobot Roomba 790 can be scheduled to perform up to seven cleaning sessions per week, even when you are not at home
Extended Life Power Management: iRobot 790 uses sophisticated power management software that results in 50% longer battery life than previous Roomba generations
Advantages of iRobot Roomba 790
Nice ergonomic design and good robust construction;
It picks up pet hairs and dust, with visibly great results ;
It's mobile and overcomes obstacles;
It will handle various floor levels and gets stuck less frequently. It'll even go over or around obstacles but of course, don't expect it to climb stairs;
More advanced technology allows it to get right up alongside edges;
Good sensors;
It really is possible to forget all about it and just let it get on with its work;
Disadvantages of Roomba 790 
Price. Price may vary depending upon where you're buying it. But it goes something around 550-699$. Not cheap, not at all;
Still it cant be compared to traditional vacuum cleaners .If you run one of those over a floor previously cleaned by the 790, there is a fair chance you're going to find that you have still picked up some additional dust and hair. But it is well-known fact that robotic vacuum cleaners are so that you don't need to vacuum often. It is still needed from time to time to use traditional vac system;
Though quieter than many, it's still a little noisy;
HEPA filters are expensive to replace and you are forced to use them;
PROS:
Nice ergonomic design
Good robust construction
Picks up pet hairs and dust
It is mobile
Goes around obstacles
Good sensors
CONS:
Price
Little noisy
Forced to use HEPA filters
How Does iRobot Roomba 790 Compare To The Competition?
It's never easy to compare various robot cleaners to each other. Because if you want to be accurate, you'd need the controlled environments normally associated with a lab rather than a humble sitting room.
However, it's possible to make some general observations about the 790 when compared alongside some of its major competitors like the VK range, Samsung and Mint.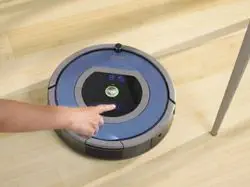 Firstly, it seems to be right up there at the top in terms of technical sophistication. OK, there are some new models in Japan that apparently have voice-recognition built-in (if you can face talking to your vacuum cleaner) but they're still largely novelty items.
The 790 and maybe VK are leading the pack right now in technology. Secondly, it comes from an established stable and that suggests expertise and past success.
 iRobot must be doing something right and you'll get a good insight into that if you give the 790 a spin. By contrast, some robots arrive, make an initial impact and then are never seen or heard of again. Nor are their makers in some cases.
Thirdly, with this being a slight negative, if you're price conscious or a bit strapped for cash, there are far more attractively priced models around.
Roomba 790 Review Conclusion
Unique Shape: Some people have described it as "flying saucer" shaped unit;
User Friendliness: A touch pad control, which can be used to give the robot directions if wanted;
Upgraded Cleaning Technology: An advanced cleaning head, which is claimed to be a big improvement on earlier models and which leads to the manufacturer's claims of 98% removal of dirt and hair from surfaces;
State-of-the-art Sensors: Optical and acoustic sensors which enable the more comprehensive identification of dirt and dust particles;
Dual Capabilities: Multi floor capabilities for handling both carpets and hard floors;
Advanced Filtering: Improved filters removing dust and pollen particles from the air as small 0.3microns;
Low Impact Bumpers: Specially softened bumpers to prevent damage and scratching to furniture and other surfaces the robot comes into contact with;
Thorough Cleaning: What's called persistent pass cleaning. In other words, the robot will sense when something is particularly dirty and go over it several times until it gets an acceptable result;
Hands Free Use: The docking station that the robot will return to automatically when it needs to recharge its battery;
Clear Interface: An automatic 'bin full' indicator, letting you know that it needs to be emptied!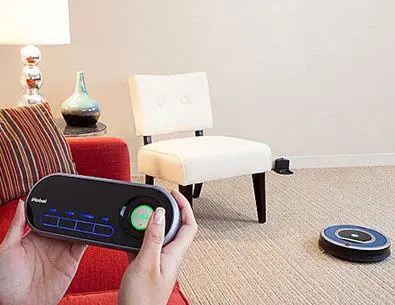 What's In The Box:
1 iRobot Roomba 790
1 Rechargeable Battery
1 Battery Charger
1 Compact Self-Charging Home Base
3 Virtual Wall Lighthouses
1 Wireless Command Center
3 Extra Sets of Dual HEPA Filters
3 Extra Side Brushes
2 Extra Beater Brushes
2 Extra Bristle Brushes
2 Brush Cleaning Tools
1 Screwdriver
1 Accessory Storage and Carrying Case
1 Instructional DVD Wireless Command Center
DVD Wireless

Command Center: Makes initiating a cleaning, scheduling and steering Roomba even easier. Using radio frequency technology, you can now control Roomba from almost any room in your house.
Wireless Command Center requires 4 AA batteries which are not included.
Virtual Wall Lighthouses each require 2 C batteries which are not included.

Roomba 790 Maintenance
All of this automated delight comes with need to take care. Empty the dustbin after each session.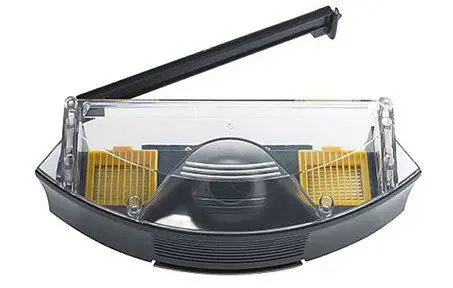 Use the included brushes to comb stray dirt out of its bristles. Keep an eye on the side brush and replace it if starts to look a little frail.
For all the Roomba does for you, can't you do this little bit for your Roomba? You can. It shouldnt take more than 5 minutes.
Roomba 790 vs Roomba 780 vs Roomba 770 vs Roomba 760



Overview
Description
Brand/Store
Availability
User Rating
Review
Specification
Operating Time (hours)
Charge Time (hours)
Operating Pattern
Scheduled Cleaning
Infrared Sensor
Dirt Sensor
Hardwood, Tile & Linoleum
Carpet
Spot Mode
Height Adjustment
HEPA Filter
Multi-Room Navigation
Full Bin Indicator
Cliff Sensor
Charging Base
Return to Charging Base
Bumper
Boundary Markers
Virtual Walls
Remote Control
Dimensions
Battery Indicator
Weight
Price
Should You Buy Roomba 790?
Do you want to get rid of one of your chores forever? Then get a Roomba 790. Do you want a vacuum that will get your floor spotless beyond reproach every time?
Then you need an old-fashioned manual vacuum. If you think Roomba 790 is not for you, then check older models like Roomba 780 or Roomba 770.
Roomba 790 replacement parts  – Roomba 790 Replacement Accessory Kit
Excellent
This robotic cleaner is little pricy and it uses HEPA filters which too are not cheap. It cleans very good and has many advanced features. It is great cleaner in overall but there are plenty cheaper quality models out there.
PROS
Nice ergonomic design
Good robust construction
Picks up pet hairs and dust
It is mobile
Goes around obstacles
Good sensors
CONS
Price
Little noisy
Forced to use HEPA filters