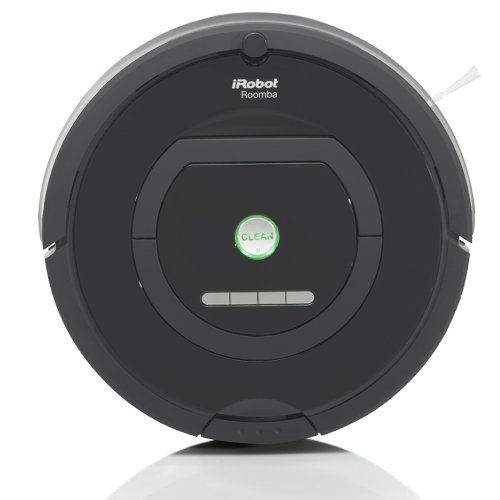 The iRobot Roomba 770 Pet Robotic Vacuum is another model in Roomba series of robotic vacuum cleaners. It is bigger than earlier version and definitely more powerful.
Early Roombas versions had repair issue problem where dirt and hair could get in gearbox and make robot vacuums unusable.
Luckily that is not problem anymore as iRobots latest Roomba series of vacuum cleaners use sealed gearbox.
Brushes, squeegees, and filters are easily removed so it is easier to clean them.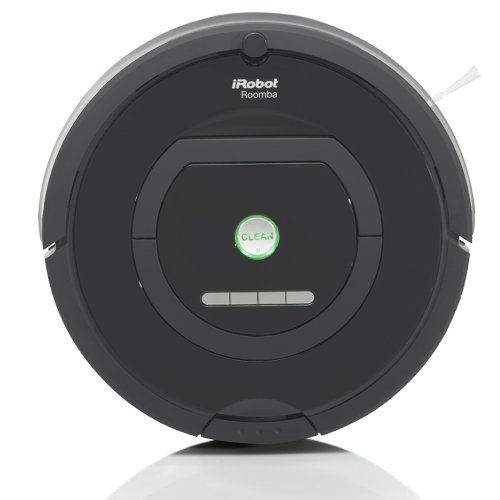 iRobot Roomba 770 Robotic Vacuum
When the Roomba detects a particularly grimy spot on hard floor or carpet, it begins an aggressive back and forth vacuuming motion. That is the way human would do it. iRobot calls this "Persistent Path" cleaning.
According to iRobot the Roomba 770 is smarter, powerful, has improved dirt detection, a larger dirt bin and longer battery life than previous models.
The iRobot Roomba 770 pet robotic vacuum does all the work for you. The sweeping and vacuuming is done with a touch of a button.
The Roomba will collect all the dirt and debris from carpet, hardwood, tile and all types of floors.
Most important part of any vacuum cleaner is its dust bin. Of course, traditional vacuum cleaners have bigger dust bin and thus can collect more impurities.
My final opinion on the Roomba is that it definitely exceeded my expectations on its cleaning ability. It's intuitiveness, style and ease of use also impressed me and the four stars that I've giving it are well-earned! – Buyer
But iRobot is actively working on that field and capacity of Roomba robotic vacuum cleaners series is providing redesigned dust bin with more space. The 770 is no exception.
The iRobot Roomba 770 pet robotic vacuum allows pet owners to keep up with their pets by removing pet's hair off their floor over and over again without ever getting tired or complaining.
Allergy sufferers will appreciate this because it has HEPA filtration.
Dual HEPA filter captures dust particles. Many robotic vacuums pick up dust and dirt, but then it re-circulates back out the vacuum into the room. Roomba will capture the dust and will not let the dust escape back into your home.
Roomba 770 has a 3-stage cleaning system. The 3-stage cleaning system lifts deep dirt from carpets, tiles, linoleum and hardwood flooring.
The iRobot Roomba has a spinning side brush that offers cleaning along wall edges. It will get all those dust bunnies that gather at the edges of your floor and walls.
The counter-rotating brushes perform like a broom and dust pan picking up and sweeping at the same time.
The vacuum will suck all this dirt and dust into the canister for removing.
The iRobot Roomba 770 comes with a self-adjusting cleaning head suspension.
This allows Roomba 770 robotic vacuum to go from carpet to hardwood floors without any problems or adjusting. It will self-adjust itself.
It is the perfect vacuum for homes with pets or allergy suffers.
iRobot Roomba 770 pet robotic vacuum comes with AeroVAc Series 2 Technology. This technology is designed to remove pet hair, pet dander, hair, dirt and dust from carpets and floors.
The iRobot Roomba 770 pet vacuum comes with an improved dirt detection system called Dirt Detect Series 2.
Thanks to this technology Roomba 770 finds dirtier areas of the floor so it can clean it more throughly.
How iRobot Roomba 770 pet robotic vacuum works?
The Roomba 770 stands approximately 3.6 inches high and weights 8.4 pounds.
Very important component for any robotic vacuum is the dust bin. Larger, more traditional handheld vacuums offer far more capacity than robotic vacuum cleaners.
But iRobot has redesigned the bin and added space. The iRobot Roomba 770 pet robotic vacuum is no exception.
It uses a single, removable chamber with more capacity than ever on a Roomba.
Since Roomba is a robot that cleans on its own, dirt detection system is a critical tool. iRobot uses a proprietary cleaning algorithm to drive the Roomba.
Exceptionally amazing for a robot. While you can't expect it to vacuum as fast as doing it by hand, this is the single man's best friend and the ultimate time saver.
That being said, I was surprised how much it actually picks up when its done.
It does a pretty good job at maneuvering throughout the house. I was a bit worried about it getting stuck on things, but in my experiences the only thing to watch out for is thin cords and blind strings laying on the floor. – Buyer
It's one of the reasons its cleaning path looks so haphazard. There is a method to the madness, though. That algorithm works in concert with a variety of dirt sensors.
In addition to acoustic sensors that actually hear the dirt as it hits the machine, Roomba 770 now has optical sensors to see it as well.
When the Roomba detects a particularly grimy spot on hard floor or carpet, it begins an aggressive back and forth vacuuming motion. T
hat is the way human would do it. iRobot calls this "Persistent Path" cleaning.
[wpsm_afflist ids="1847,1685,1670,1855″ show="4″ ]
Cleaning path of Roomba 770 may look little strange to you. Dont worry, that is how it is supposed to work.
Roomba can manage rooms and homes of any size. Though it cannot go up and down stairs.
There is no robotic vacuum cleaner who can clean stairs and I doubt there will ever be one.
It comes with a docking station/charging base and will return to it on its own when it's running low on battery.
iRobot Roomba 770 pet robotic vacuum comes with a remote control, which you can use to start the Roomba cleaning or even guide it to a certain spot and control its cleaning pattern.
It's also easy to use Roomba's on-board controls.
Over the years, Roomba's interface and controls have remained very simple and straightforward.
There's still a large Clean button in the center and just a handful of buttons to control the on-screen.
iRobot integrates anti-tangle technology, which is supposed to prevent the Roomba from getting stuck on rug tassels, strings and wires.
Despite anti-tangle technology iRobot Roomba 770 pet robotic vacuum will often get stucked.
It is good to remove  any objects that could cause iRobot Roomba 770 vacuum to stuck in room you intend to use it.
Roomba's ability to detect other objects and stairs and work around these obstacles is remarkable.
As vacuums go, the Roomba 770 does a good job of cleaning up most debris. About 90% will be vacuumed.
It runs for up to 3 hours on a charge, and will take itself back to its docking station if it needs to recharge and when it's done cleaning. It has cliff sensors so it knows it is near steps, for example, and will not fall down! It also has a dirt sensor and will go over an area repeatedly if it finds a lot of dirt until it's clean. – Buyer
It'll take about  3 hours to fully charge. iRobot recommends to keep it on the charging base all the time to maintain its charge and maximize run time.
If you're not going to use it for an extended period then take it off the charger and store it.
The light on top of the robot will turn yellow if battery is low and goes back to green if there is still a lot left.
The virtual walls though do not have any indicators that'll let you know if batteries are running low.
 iRobot Roomba 770 pet vacuum will run about 90-minutes on a full charge.
iRobot Roomba 770 Floor Cleaning
It does great job on bare floors such as hardwood, tile and linoleum. Motorized brush and edge brush will pick up most of the dust and pet hair on this surface.
All potential hazards like wires, rug tassels or spilled liquid must be cleared out.
It does have a penchant for getting tangled up with wires and when it gets stuck it has to be manually dislodged.
Don't expect deep cleaning performance on carpets. But it'll still do a good job on maintenance clean-ups.
iRobot Roomba 770 Vacuum Cleaning Robot
iRobot Roomba 770 is smarter, more powerful, has improved dirt detection, a larger dirt bin and longer battery life than previous models.
If you have thick rugs the Roomba 770 might not be able to go over it. It'll either get stuck trying to or just move in another direction.
For rugs with tassels, vacuum these separately because those tassels may get stuck in-between the two brushes underneath.
If strings or wires get in-between the brushes, it has an anti-tangle system that automatically shuts off and spins in reverse to free itself.
Also if you have a really dark rug or carpet, the cliff detection sensors might think that it's an open space and not go over to clean it.
Product
Specification
Photos
People with allergies should give a close look on Roomba 770 Robotic Cleaner. It is equipped with 2 HEPA filters that keeps most allergens in the dirt canister and out of the atmosphere.
| | |
| --- | --- |
| Operating Time (hours) | |
| Charge Time (hours) | |
| Operating Pattern | |
| Scheduled Cleaning | |
| Infrared Sensor | |
| Dirt Sensor | |
| Hardwood, Tile & Linoleum | |
| Carpet | |
| Spot Mode | |
| Height Adjustment | |
| HEPA Filter | |
| Multi-Room Navigation | |
| Battery Indicator | |
| Full Bin Indicator | |
| Cliff Sensor | |
| Charging Base | |
| Return to Charging Base | |
| Bumper | |
| Boundary Markers | |
| Virtual Walls | |
| Remote Control | |
| Dimensions | |
| Weight | |
| Price | |
Excellent
If you're tired of vacuuming, or simply don't do it often enough, iRobot's Roomba 770 Vacuum Cleaning Robot, while not perfect, is an effective automated solution.
Ability to work around Obstacles
8.5