iRobot Roomba 760 Robotic Vacuum Cleaner For Pets & Allergies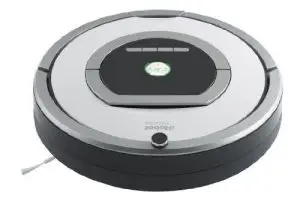 iRobot Roomba 760 Robotic Vacuum Cleaner is very similar to 770 model. The only difference between those two is that Roomba 760 doesn't have a full bin indicator.
If cleaning is not exactly one of your favorite chores , the Roomba 760 may be the perfect household companion for you.
But with so many Roomba and other robotic vacuum brands models available, it can be hard to determine and choose one that will best fit your cleaning needs and requirements.
iRobot Roomba 760
Roomba 760 Robotic Vacuum Cleaner can remove up to 98% of dirt, dust and pet hair on its own. It uses iAdapt Responsive Cleaning Technology. That means the robot will thoroughly vacuum the entire floor, including hard-to-reach spots under furniture.
The Roomba 760 is loaded with the latest technology and features. For example, dual HEPA-type air filters which will stop fine dust from circulating in your home, leaving behind fresh air.
And with Roomba's on-board scheduling, the robot cleans when it's most convenient for you, even when you're not home.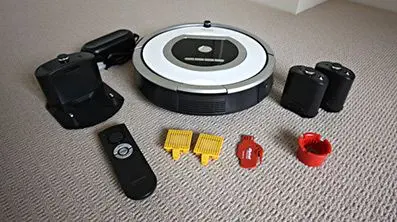 The iRobot Roomba 760 Robotic Vacuum Cleaner is easy to use. Just press the "Clean" button and let the robot do the dirty work. It is also said that this robotic vacuum is good for cleaning after pets and for allergies sufferers.
People with allergies looking for a good value robot vacuum with top of the line features should have a long look at this. Roomba 760 comes with the same 3-stage cleaning system found in all Roomba 700 series robotic vacuums.
A side brush reaches the edges and the two counter rotating brushes act as a broom and dustpan. Suction then pushes everything into its dirt bin.
Inside the dirt bin are two HEPA filters that block most of the allergens from coming back out. It is a bagless system so there are no bags to replace and the filters are washable. This will save money and time.
You do need to arrange your house so that it does not get trapped. It goes over rugs well, but I had to rearrange some rugs to avoid wedging the bot under overhangs. It goes over single power cords easily, but groups of wires can cause problems.
It will accidentally shut doors unless they are secured and then it will run out of power without returning to the charging unit. Once you make a few minor alterations around your house it works almost flawlessly. – Buyer

Since it uses a HEPA filter, iRobot recommends replacing filter once every 2 to 3 months. If you use it more often than it is good to replace it more frequently.
Manual says that filters can be washed but some consumers recommend using compressed air to blow the dust out.
iRobot doesn't advise this since the HEPA filter will lose its effectiveness in blocking out allergens if compressed air is used for cleaning
Like all 700 series Roombas, the iRobot Roomba 760 Robotic Vacuum Cleaner uses the iAdapt technology that makes 60 plus decisions per second.
It moves at a random motion and learns as it goes. The longer you use it in your home, the more efficient it'll be as it learns the layout and shape of the rooms. It might miss some areas but those are minimal.
Roomba 760 vs Roomba 770 vs Roomba 780 vs Roomba 790



Overview
Description
Brand/Store
Availability
User Rating
Review
Specification
Operating Time (hours)
Charge Time (hours)
Operating Pattern
Scheduled Cleaning
Infrared Sensor
Dirt Sensor
Hardwood, Tile & Linoleum
Carpet
Spot Mode
Height Adjustment
HEPA Filter
Multi-Room Navigation
Full Bin Indicator
Cliff Sensor
Charging Base
Return to Charging Base
Bumper
Boundary Markers
Virtual Walls
Remote Control
Dimensions
Battery Indicator
Weight
Price
iRobot Roomba 760 Robotic Vacuum
 

Cleaner

As with all robot vacuums, consumers have to do their part and clear out all loose wires, light rugs, toys, litter boxes, scattered paper, etc.

These are potential road blocks that can slow iRobot Roomba 760 Robotic Vacuum Cleaner or prevent him from going further.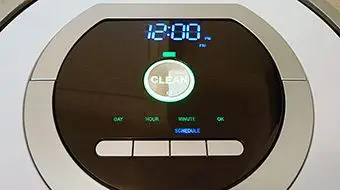 It can clean multiple rooms but remember to use the virtual wall to block off rooms you don't want it to enter and have at least 3 feet of clear space around the docking station.
The Roomba 760 has a combination of intelligent options that help it operate around your furniture.
There are a proximity sensor right at the front of the device which scan the room 60 times every second and instruct Roomba to slow down when approaching a wall or other large objects.
Using the proximity sensor, the Roomba 760 can roughly estimate the size of the obstacle in front of it, then determine if it can move around it or if it should head in another direction.
Fantastic invention and super effective and convenient. Does get stuck at times but not enough to be annoying. – Buyer

It also has a front bumper to absorb some of the shock from bumping into things. In overall your things should be safe from damaging.
Before the Roomba 760 can begin cleaning, it needs to be charged either by directly plugging in the cable from the AC adapter or by docking it to the charging station. iRobot Roomba 760 robotic vacuum can clean continuously for about an hour and a half.
The 1.5 hours is more than enough time to cover a large room, or 2 smaller rooms, or one small room twice over. The battery level indicator is found above the "Clean" button. It glows green when the battery is full and changes to amber when it needs recharging.
You dont need to worry about battery because the Roomba 760 will return the docking station by itself before battery is depleted.
iRobot Roomba 760 Robotic Vacuum Cleaner for Pets and Allergies
It can clean multiple rooms but remember to use the virtual wall to block off rooms you don't want it to enter and have at least 3 feet of clear space around the docking station.
The "Dock" button forces the iRobot Roomba 760 Robotic Vacuum Cleaner to immediately return to the docking station. You can also set pre-define time when you want Roomba 760 to start vacuuming.
The "Clock" button allows you to set the time, which is important because the "Schedule" button enables you to set the Roomba 760 off to vacuum your house at particular times on any given day. "Spot" button forces the Roomba 760 to clean a specific area repeatedly.
Two large wheels drive the iRobot Roomba 760 Robotic Vacuum Cleaner forwards and backwards while a smaller rotating wheel at the front navigates it.
The Roomba 760 Robotic uses intelligent algorithms to navigate around rooms and furniture. It's clever enough to avoid getting stuck under tables or between chairs.
It is also able to vacuum around edges. It doesn't bump into an object, it turns 180 degrees and head in the opposite direction.
The iRobot Roomba 760 comes with feature called dirt sensing. Dirt sensing blasts sound waves while moving along so it can detect any buildup of dirt on the floor or carpet. If it does detect any it will vacuum over that area several times before moving along.
iRobot Roomba 760 Robotic Vacuum Cleaner Floor Performance
Similar to other 700 series Roomba robots it does its best work on bare floor. It will pick up pet hair and dust around the room and under furniture. Take note that this will remove mostly loose dirt. If dirt is stuck it won't pick it up.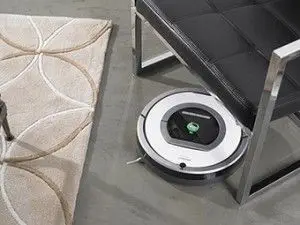 It will do good job on carpets. But on really thick carpet, don't expect too much out of it. Because it doesn't have deep cleaning performance. That's were good old full-sized vacuums will come in to play.
It won't have trouble transitioning from floor to rugs as long as the rug isn't too thick. Cleaning low to medium pile rugs won't be an issue either but it will struggle with really thick shaggy rugs.
Also remember to tuck in the tassels so that the robot won't chew it up and get stuck. iRobot Roomba 760 Robotic Vacuum Cleaner was designed to clean up pet hair with two motorized brushes plus a side brush.
Lot of pet owners are happy with the results as it successfully removes pet hair that our beloved pets leave.
I have two long hair cats, and this vacuum was the best choice I have made in a long while. When I leave for work, when I am cleaning the kitchen, when I am doing my exercises, or in the pool, I can turn the Roomba on and vacuum the house as well. It's like having my own personal assistant. And the cats are not bothered in the least. – Buyer

Be noted that there will be a need to remove hair that gets wrapped around the two brushes as part of the maintenance cycle.
Can I wash the HEPA filter and the dust bin?
It is not recommended to wash HEPA filter. You can clean dust bin.
How effective is the Roomba with cleaning corners and edges?
Edges are easy. It has a little brush that whizzes around and flicks dirt out for the machine to suck up. All around it's pretty impressive!
How loud is it?
Not too loud, but still loud enough to not want it to work while you are asleep.
How much does the bin hold?
The bin holds quite a bit of dust, hair, and debris.It is recommended to empty bin at least once a week.
Does it pick up food chunks and cereal?
Cereal is not a problem, food chunks would depend on the size, anything too big for it will jam it up.
Is this vacuum good enough that you don't ever need to manually vacuum?
There is no robotic vacuum cleaner that can entirely replace manual vacuum. It is recommended from time to time to use good old handheld vacuum cleaner.
iRobot Roomba 760 Robotic Vacuum Cleaner Specifications
| Features | iRobot Roomba 760 |
| --- | --- |
| Battery type | Not specified |
| Charger type | Charging Station |
| Charge time | 3 hours |
| Run Time | 90 minutes |
| Net weight (with battery) | 8.4 pounds |
| Shipping weight | 14.4 pounds |
| Diameter | 13.9 inches |
| Height | 3.6 inches |
| Multi Room | YES |
| Self docking | YES |
| Remote control | YES |
| Hepa filtration | YES |
| Cliff detection | YES |
| Self adjusting | YES |
| Side brush | YES |
| Full bin indicator | YES |
| Stair Cleaning | NO |
| Cleaning sessions per week | 7 |
| Extra Filter | 1 pair |
| Containment | 2 virtual walls |
| Brush cleaning tools | 2 |
| Accessories included | Charging base |
iRobot Roomba 760 Robotic Vacuum Cleaner Pros and Cons
Advantages

At least $50 cheaper than other 700-series Roomba models
HEPA Filtration (it also comes with an extra set)
Can be scheduled to clean while you're not around
Comes with a remote
Has 2 virtual walls
Will pick up pet hair

Disadvantages

Still an expensive vacuum
HEPA filter needs to be replaced every 2-3 months
Can't deep clean carpet
Brushes need to be cleaned regularly
May get stuck once in a while
iRobot Roomba 760 Robotic Vacuum Cleaner Conclusion
This product is great for busy professionals, parents, pet owners looking for some relief in their cleaning chores. It can be scheduled to clean at a specific time of the day on its own which is definitely a big plus.
There are some concerns about the noise and small dirt bin but that's just a minor con compared to the time it frees up.
Remember that since it is a robot it won't act like a human but give it some time and it'll learn and be more efficient as it adapts to your home's surroundings.
Does a good job and picks up pet, just keep filters and bin clean at every use. – Buyer

Take note that it doesn't come with a virtual lighthouse but for the price it is a good investment for busy people looking for house cleaning assistance or pet owners looking for in keeping their floors free from pet hair.
Package Includes:
1 iRobot Roomba 760
Compact Self Charging Home Base
2 Virtual Walls
1 Battery Charger
1 Rechargeable Battery
2 Extra HEPA Filters
2 Brush Cleaning Tools
1 Remote Control
1 Instructional DVD
Manufacturer's 1-year limited warranty
It has problems distinguish between a piece of string and an expensive cable. It will devour anything that it comes across in its vacuum path. Shirts, towels, socks or any type of laundry, really small toys, cables, etc.
You should ideally make sure that there are no misplaced items on the floor, stray cables or wires. To conclude, iRobot Roomba 760 robotic vacuum cleaner is worthy investment!
Excellent
It is great robotic vacuum cleaner to keep your house always clean. Its price could present problem as it goes into category of expensive cleaners. But it does come with various extra features and options which justify higher price value.
PROS
HEPA Filtration
Scheduled cleaning
Remote control
Virtual walls
Picks pet hair
CONS
Expensive
HEPA filter needs to be replaced often
Can't deep clean carpet
May get stuck
Brushes need to be cleaned often