Top 9 Best Highest Rated Robotic Vacuums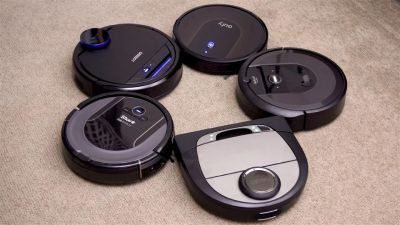 Thanks to evolving technology and everyday science that is gifting humans with some time savvy gadgets and eliminates the headache of managing time and daily routines, robotic vacuums are here to help.
Yeah, here we're talking about some of the highest rated robotic vacuums, which are made to help you with their tremendous ability and functioning.
Highest Rated Robotic Vacuums
Here are some of the best rated currently available robotic vacuum cleaners:
#1. iLife A4s Robot Vacuum Cleaner
iLife is a China-based manufacturer and has multiple warehouses all around the globe. Model iLife A4s is designed for the segment of people who don't want to make a massive hole in their pocket.
With a great and eye-catchy look and feel along with modern technology and advanced sensors, it succeeds in the same. If you look at the top view of this robotic vacuum cleaner, you'll mainly notice two things. One is an on-off switch, and another is a bumper wall for safety purposes.
iLife A4s comes with the 5 modes of cleaning. Each has a different role in cleaning but has the same functionality. Those are Mini-Room, Spot, Edge, Scheduled Cleaning, and Auto Cleaning mode.
Cleaning goes through three steps mainly Sweeping, Rolling and Sucking. At the bottom of this vacuum cleaner, you'll notice wheels, dustbin, rolling brush and cleaning brush, and charging pins.
This vacuum cleaner is equipped with state of the art 3rd gen technology of robotics, and it knows very well how to please you with the quality of cleaning.
It is smart enough to follow your command when scheduled to work on time. It also knows where to go when it runs out of charging. It'll reach out to the charging station when the battery gets drained.
It is equipped with multiple smart sensors to avoid any accidents, which means it won't bump up or fall on stairs.
With a decent battery back up of 140 minutes, it can clean a middle-sized house twice. Inside the box, you'll get the Main unit, Remote control, High-performance Filter, 2 Extra side brushes, a Charging dock, power adapter, and user manual.
PROS:
Highly affordable robot vacuum cleaner
Sleek look and feel with elegant design
High-end programmable scheduling
5 modes of cleaning
Smart sensors prevent accidents
Fabulous cleaning capability
Noiseless working
Remotely controllable
CONS:
Can't work in the too dark surface or high pile carpets
No Wi-Fi connectivity or application tracking
If you're looking for something cool and reliable at an affordable rate, then going with iLife A4s robot vacuum cleaner will be a definite great choice. With tremendous capability and massive user response, we'll have to admit that this becomes one of the best robotic vacuum cleaners available on the market.
#2. iRobot Roomba 690 Robot Vacuum Cleaner
We all know that iRobot is a highly reliable and trustworthy brand, and all the products manufactured by them are real gold in the robotics market. In the same way, this model, iRobot Roomba 690, is one of their winning product on the market.
This robotic vacuum cleaner utilizes a technology called dirt detect. It means, whenever this robot vacuum cleaner detects dirt, dust, or debris on the floor, it goes several times over that specific area to ensure you a spotless surface.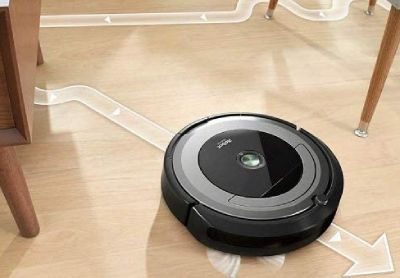 iRobot 690 is a mid-range vacuum cleaner in the Roomba product line. It uses AeroVac technology and works silently without disturbing your sleep even. Just 65 dB of noise is the iRobot Roomba 690 vacuum cleaner's game-winning element.
With a sleek and elegant design, this robotic vacuum cleaner has some other marvelous functionality as well. You can connect it to Google Home and Alexa as well. With a cell phone application, you can track it and keep an eye on its working.
As far as build is concerned, there is a bumper wall all around the vacuum cleaner for safety purposes. In the top center, you'll notice an Auto On-Off switch.
There is a handle on the top, which lets you lift the cleaner in case it is stuck to a specific area. A dustbin release compartment is also featured on the top. Battery life provides a battery life of around 90 minutes.
The bottom of the iRobot 690 Roomba vacuum cleaner features a small spinning brush that sweeps the dirt, a Roller brush that lifts the dust and debris.
Things that you'll get in the box include one virtual wall barrier, a charging station, two HEPA filters, one cleaning tool, a battery, and an extra spinning brush.
PROS:
A reliable and trustworthy manufacturer
Excellent cleaning
Use of modern technology
Multiple sensors for various purposes
Designed and built by keeping all essential points in the mind
It can be operated using the iRobot Home application, google assistant, and Alexa
Dual-mode virtual wall barrier to having control over the cleaning area
CONS:
A bit less battery life
Due to dirt-detect technology, sometimes it can get stuck
The first thing that we liked about it is the smart technology level that comes with it. Another thing is silent and hassle-free working. iRobot 690 Vacuum cleaner is one of the best Roomba vacuum cleaners. For other Roomba models you can check Roomba 770 review, Roomba 650 review, Roomba 790 review, Roomba 780 review, Roomba 595 review, or Roomba 760 review.
#3. Shark ION Robot Vacuum R75
Shark is one of many brands established by SharkNinja LLC. This brand is doing well for home appliances and has secured some decent business on the market.
As far as Shark ION robot vacuum is concerned, this is one of their many best performing robotic products. The model we're currently reviewing belongs to the R series of their vacuum cleaner models.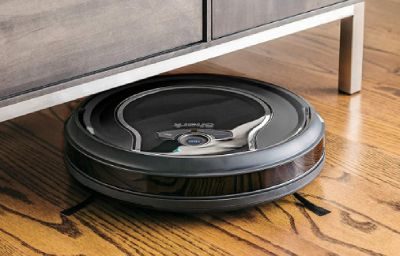 The first thing you'll notice upon arrival would be its circular shape and eye-catchy, elegant design. It features metallic grey or dark grey color on the body and gives a decent and pleasing look and feel with glossy finishing.
If we talk about working and cleaning quality, then Shark ION R75 Robotic vacuum cleaner passes the test with all its performance.
R75 features a high-quality helix pattern brush roll at the bottom, which lifts almost all kinds of debris and dirt particles from the floor with ease. Along with a broad brush at the base, it also features multiple small brushes on the side to sweep the dirt and loads it into the dustbin.
Along with the cleaning mechanism, added technology called detangling technology will amaze you with its smartness. Yeah, it manages to detangle any long hair, strings, or fiber wires itself, and it'll not seek your help for doing the same.
Smart sensor navigation gives a brief idea to the robot the spots that still need to be cleaned. With a decent noise level of 67dB, this is a definite calf and quite cleaner for you.
You can expect a battery back up of 60 minutes from the Lithium-Ion battery equipped with it.
Along with all these features and capabilities, it is also smart enough to give you control over its working, and you can always keep an eye on it with your fingertip.
It's a Wi-Fi-enabled robotic vacuum cleaner and works well with Alexa or ION Robot App. Trace it or command it all is in your hand. It'll never disobey your command.
The product is offered at a fair price by the manufacturer, and along with it, the manufacturer's one-year warranty is another cherry on the dessert.
PROS:
Fair price label
Excellent cleaning quality
Silent operation
Working of smart sensors is up to the mark
Perfect navigation performance
High-Quality build
Detangling technology
Easy to the empty dustbin
Can be controlled via Alexa or ION Robot App
CONS:
Replacement is a bit costly
Battery backup is average
If you don't want to spend your money on any high-profile robotic vacuum cleaner but still want to get quality cleaning performance and a silent companion, then Buy Shark ION R75 robotic vacuum cleaner.
#4. iRobot Roomba 675
Do you want to bring something affordable yet quite smart? Then iRobot Roomba 675 is your answer.
One cleaning button in the center, a lifting handle, and minimalistic control and design. We all are familiar with this design and build as it is quite similar to the previous variants of Roomba models.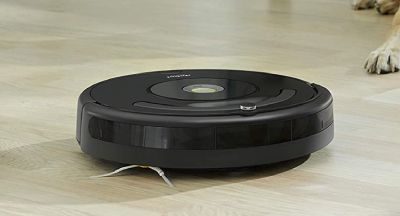 A protective bumper prevents any knockouts with walls or furniture. The bottom part of the robot is impressive, with a helix bush in the center, multiple small spinning brushes on the side, and 3 navigation wheels are located to make it's working up to the mark.
Moreover, side brushes are located at 27 degrees, which helps the robot to clean corners and edges at its best. No chance for dirt particles to escape from its eyes.
When it comes to sensors and functionality, iRobot Roomba 675 won't let you down because patented dirt detect sensors forces it to give its best whenever it moves over real dirty areas of your house.
Smart and intelligent sensors avoid any fall down, unnecessary hassle, or accident-prone zones and alert the vacuum cleaner to be aware of the situation.
This robot vacuum cleaner comes at a fair price and provides rock-solid cleaning even on hard surfaces and carpets. Moreover, it is controllable via wi-fi using iRobot Home App or Alexa.
PROS:
Marvellous cleaning
High-end smart sensors
Don't get stuck easily
Well managed navigation
Decent battery backup
Automatically navigates to charging dock
Large sized easy to empty dust bin
Controllable using Alexa or Google Home Voice commands
CONS:
Pricey yet worth to look at
Dirt detection technology is of basic level
We all know that that iRobot Roomba brand itself justifies its worth in your home, so it is worth buying iRobot Roomba 675 for your house cleaning jobs.
#5. EcoVacs Deebot N79S robot vacuum
EcoVacs N79S is a robot vacuum cleaner that is offered at a fair price and packed with some advanced features. It is upgraded version of Deebot N79. This robotic vacuum cleaner can be controlled using Alexa and Google Home voice commands.
If we talk about its build, then EcoVacs N79S is built using high-quality, durable materials and the great thing about this one is that it is made in the USA with the mind power of a highly qualified researcher team.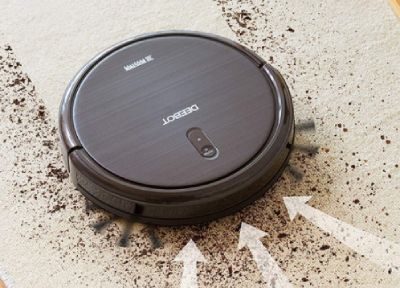 You'll get an Auto mode switch along with a wifi connectivity indicator on the front of the vacuum cleaner. On the side of the vacuum cleaner, bumper support is provided to deal with any unfortunate hassle with walls or furniture. The vacuum cleaner is provided with a V-shaped helix brush and bin storage in the bottom base.
If we talk about suction and debris pulling capability, then it works better than any other best budget vacuum cleaner in this price range. However, there are minor chances when it fails to collect dirt, dust, or debris from dark and high pile areas. But it doesn't happen often.
It features the three most influential and highly efficient cleaning modes. It doesn't matter if you want to clean the whole room or part because it can follow the auto cleaning mode with a smart navigation function.
In case you want to clean a particular area, then it can work on spot mode with a buttery smooth cleaning experience. In case you're worried about edged and corners, then using Edge mode, you can command it to follow the particular edge of furniture or walls.
EcoVacs Deebot N79S is packed with plenty of smart sensors like an anti-drop sensor, anti-Collison sensor, smart navigation sensor, best in the segment air filtration, large yet comfortable to the empty dustbin, and much more.
As far as battery backup and functioning hours are concerned, EcoVacs Deebot N79S features a 2600 mAh lithium ION  battery and provides you the freedom to keep it on working mode for around 120 minutes.
In case this robotic vacuum cleaner is running out of battery, then it'll return to the charging station on its own.
Moreover, EcoVacs offers all these features and the capability to give you a worry-free house cleaning experience along with a 1-year warranty and some additional accessories.
PROS:
It comes with autonomous cleaning capabilities
Controllable using Amazon Alexa, Google Home Voice, and Ecovacs smart home app
Don't get stuck all the time
Highly affordable model available on the market
Quick Navigation functioning
Automatically returns to charging base
Best and hygienic cleaning
CONS:
A bit noisy
Voice support is basic
#6. Ilife V3S Pro robot vacuum
As far as the iLife V3S Pro Vacuum Cleaner build is concerned, it is built using high quality and durable materials. If you ask for design, then it gives a decent yet elegant minimal look and feel with white color finishing and a smart touch command button on the front side.
In case you own a pet in your home, it'll be the best companion for you concerning cleaning as it is built with pet hair care technology and picks hair shaded by your pet.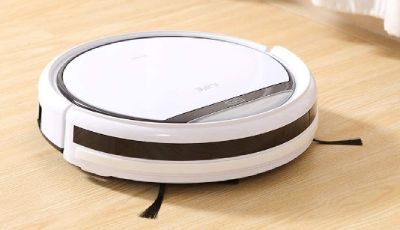 Thanks to anti-tangle technology and backbone support, it can lift and store pet hairs, strings, and small particles without any hassle.
People concerned with battery backup and functioning power will be happy to know that it can give you an excellent cleaning experience for 90-120 minutes. Moreover, it navigates to the charging hub on its own whenever it gets low on battery.
iLife V3S Robotic Vacuum cleaner features a low profile design and knows very well how to clean dirt and debris hidden under bed and furniture.
The vacuum cleaner by iLife is offered at a fair price yet gives some decent cleaning experience with its smart sensors designed for saving it from any drop or bumps.
Hepa filter and a largely sized dust bin is easy to clean and empty. This robotic vacuum cleaner gives you the freedom of scheduling cleaning tasks using the remote control.
A fair price with all must-have features and functions makes it one of the best robot vacuum cleaners on the market.
PROS:
The affordable robotic vacuum
Top-notch cleaning capabilities
Combination of various kind of sensors
Smart navigation and technology
High level of suction
Can be controlled, scheduled, and commanded by remote control
Quiet when working
Large storage bin
Long-lasting power battery
Navigates to charging station on its own
HEPA filters ensure hygiene
CONS:
The dustbin is hard to clean
It doesn't feature mopping capability
It becomes one of the top-rated robot vacuum cleaners on the market at a fair price, giving tremendous comfort, convenience, and performance.
#7. Eufy Boost IQ 11S 1300Pa robot vacuum
Eufy is a robotic manufacturing brand that is doing pretty well on the market. Robovac IQ 11S by Eufy features an elegantly finished body in terms of look and feels and comes in a slim form factor.
Slim robot vacuum cleaners are highly reliable for under the sofa, furniture, or tricky low height surfaces. It is just 2.85" tall concerning height yet comes with great suction capabilities and cleans the hardest surface with ease.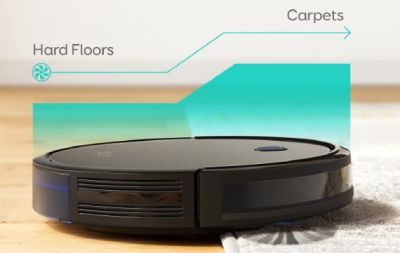 It works quietly and can keep cleaning with 1300PA for 100 minutes long run. Robovac 11S is scientifically designed to increases suction power with the blink of an eye whenever it feels that a particular surface needs extra vacuuming.
Anti-scratch tempered glass on the top surface ensures that the vacuum will be intact even while cleaning beneath furniture and sofas. Eufy Robovac 11S features infrared sensors to determine obstacles and also comes with anti-fall technology to run away from fall prone zones.
Whenever it senses a low battery, it'll navigate to the charging station and start recharging. This is one of the best robotic vacuum cleaners for hardwood surfaces.
However, it doesn't work with Alexa or Google Home voice commands, yet it gives you the freedom to control it using the remote control. Using the remote control, you can schedule cleaning jobs and navigate between cleaning modes.
Moreover, you'll get some additional accessories in the box like remote control, power adapter, charging base, cleaning tools, side brushes, user's manual, cable ties, and a set of high quality and reliable filters.
PROS:
Slim design and build
Gives perfect result in cleaning beneath furniture
Equipped with high tech sensors
Smart navigation capabilities
Best in the segment battery backup
Anti-scratch tempered glass for safety
The bumper wall secures it from hassles
Large and easy to empty the dustbin
CONS:
It doesn't support Alexa or Google Home and can be controlled using remote only.
Eufy IQ 11S is best when it comes to low height surfaces. With all the stuff it offers to you at a fair and acceptable price tag, we'll surely recommend you to buy Eufy Robovact 11S.
Smart sensors, an Infrared sensor for determining surface and fall prone zones, excellent cleaning quality, and highly reliable materials are key to our recommendation.
#8. Samsung Powerbot R7040 Robot Vacuum
We don't think that the brand Samsung needs any introduction as it is one of the oldest and widely accepted brands for home appliances and smart products.
Powerboat R7040 comes in a circular shape and square suction mouth at the front. Powerbot is compatible with Alexa, Google Home voice commands and can also be used with Samsung smart home application. Just connect it using wi-fi and command it with whatever cleaning job you want it to do.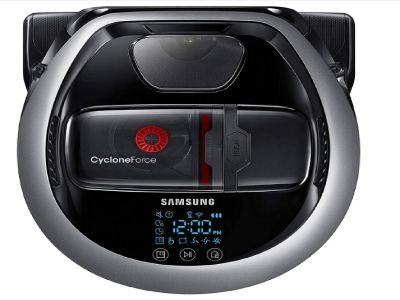 A large display and controlling panel gives it a fabulous look and feel. Also, this robotic vacuum cleaner is equipped with sensors and features an on-board camera to determine its cleaning path in a better way possible.
The 3 basic yet expected cleaning mode is there to help you with cleaning tasks. It doesn't matter if you want to clean the entire room, a spot, or want to clean the room manually.
Samsung powerboat is equipped with high tech sensors, and it is smart enough to sense where the hardwood floor surface is and where is the carpet surface area and does the job according to the surface beneath its bottom.
However, the level of noise varies among all three settings and respective modes. Modes are Turbo, normal, and quiet, which gives you the freedom to command it with the level of attention needed on a particular surface.
Turbo is the noisiest. Normal has a bit low noise level while the quiet mode is the most peaceful of all three.
Moreover, Samsung's robotic vacuum cleaner is equipped with the 9 most necessary sensors for ensuring your safety, convenience, and comfort.
If you're worried about power performance, then it won't let you down and will keep working for around 60-90 minutes and needs a recharge time of approximately 3 hours.
This smart vacuum automatically returns to the charging dock and remembers its last location. It also resumes an unattended cleaning job as soon as it gets enough power.
High quality and reliable HEPA Certified filter is another good thing to notice about Samsung powerboat R7040, and it is machine washable and reusable for a limited period.
PROS:
Blend of modern technology and elegance
Best quality of cleaning in various tests
Controllable using Alexa, Google Voice, and Samsung Smart Home App
Marvelous navigation system with the help of sensors and camera
Highly expected 9 sensors for different purpose and functioning
Multiple cleaning setting
Multiple cleaning modes for each cleaning setting
The highly satisfied consumer base
Better air filtration using HEPA certified filters
Auto navigation to charging dock
CONS:
The noise level in Turbo mode
Battery backup is average
You can easily imagine the level of tech you'll be getting from the manufacturer Samsung.
However, still, we'd like to give you a bit of a hint about your final decision. This smart robot vacuum cleaner is designed for all floor surfaces and can help you with marvelous cleaning jobs in your day to day life.
With the help of the most convenient 9 sensors and different controlling capabilities, they're offering a top-notch product to tech-savvy people without any doubt.
#9. iRobot Roomba 960 robot vacuum
Roomba 960 is an example of the state of the art tech and a blend of elegance and beauty with smart technology. We noticed first a large-sized circular clean button in-between spot cleaning and home buttons from the top view.
Best in the segment pick up performance is a winning factor with 5x more suction power than other brands and models available on the market. High-end and premium iAdapt 2.0, along with vSLAM technology, ensures you an entirely clean and shining home surface.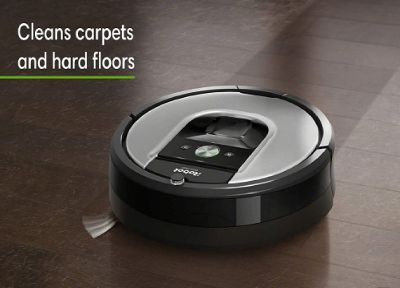 iRobot Roomba 960 can clean all types of surfaces and lift all sizes of dirt particles and debris available in one's home. It knows how to pick pet hairs and ensure your hygiene floor surface.
Multi-surface rubber brushes are the sole backbone to pick up dirt and debris from all kinds of floors. Hardwood or carpet? It doesn't matter anymore.
HEPA certified high-quality filter captures around 99% of allergens and small particles in a buttery smooth manner. iRobot Roomba is slim enough to go beneath furniture and low height areas and does its jobs like anything.
This vacuum cleaner is smart enough that it senses fall prone surface and takes a U-turn whenever it senses the same. It tackles hurdles and obstacles available on the way without you worrying about any hassle.
iRobot Roomba has high quality and the best level of cleaning capabilities along with ease of use. It is compatible with Amazon Alexa, Google Home voice, and iRobot smart home application.
Connect it with whatever application you like using wifi and command it to clean according to your preference. You can even schedule cleaning jobs.
PROS:
Best in the segment sensors
Top-notch cleaning quality
Most demanding and convenient cleaning modes
Quiet when working
Suitable for hardwood, carpet, and pet hairs
High tech navigation functioning
Durable, long-lasting build
Perfect filtration ensures a high level of hygiene
Easy to empty dustbin
Can be controlled via Alexa or ION Robot App
It is compatible with all kinds of surfaces and gives you the freedom to use it according to your preferences. Roomba 960 is made for hardwood, carpet, and pet-friendly homes.
Along with it, you're getting plenty of features for ease of access and control like multiple modes, smart navigation, long battery life, durable yet elegant design, and a high level of cleaning capabilities, etc.